Yep, 5 years! This blog is getting old!
When I created Sweet Salty Spicy 5 years ago I definitely didn't think it was a long term project. But it seems it is! I started the blog at the end of the summer before starting my bachelors degree, and I am still at it and beginning my second PhD year. Crazy! While I do let life, my school work, and sometimes my budget (creating new recipes is expensive sometimes!) get in the way of my blogging, and sometimes wish I would be more consistent in adding content regularly, I still love this blog and hope to keep sharing my love for food for many more years!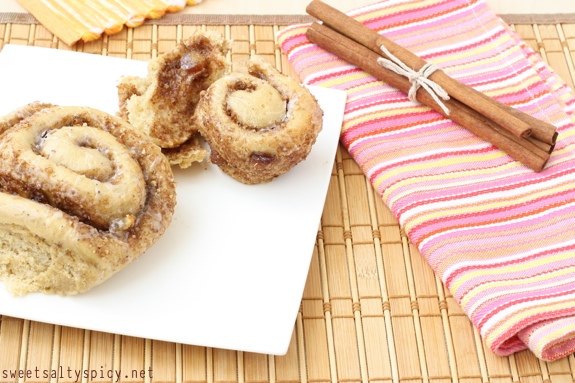 I actually totally forgot about this blogiversary until my computer calendar alert reminded me. As I always take this occasion as an excuse to make something sweet and delicious, I wondered what I could make. As I talked about cinnabons this week with friends, which made me crave cinnamon rolls, I thought – why not make some!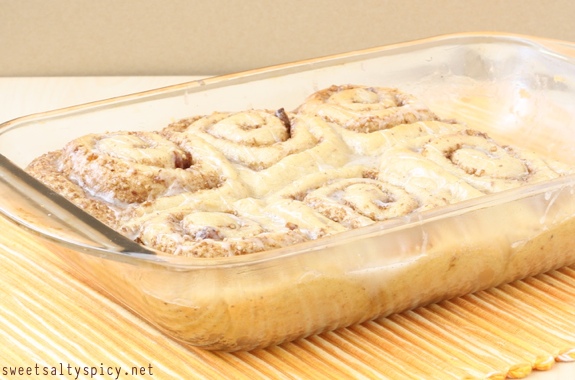 I first thought I could make blueberry lemon rolls since blueberries are in season, but I was craving something more traditional, and definitely wanted cinnamon-y rolls. Inspired by a recipe in my new favorite cookbook, But I Could Never Go Vegan!, I decided to add pecans and dates, which reminded me of one of my favorite desserts from a couple years ago; pecan pie!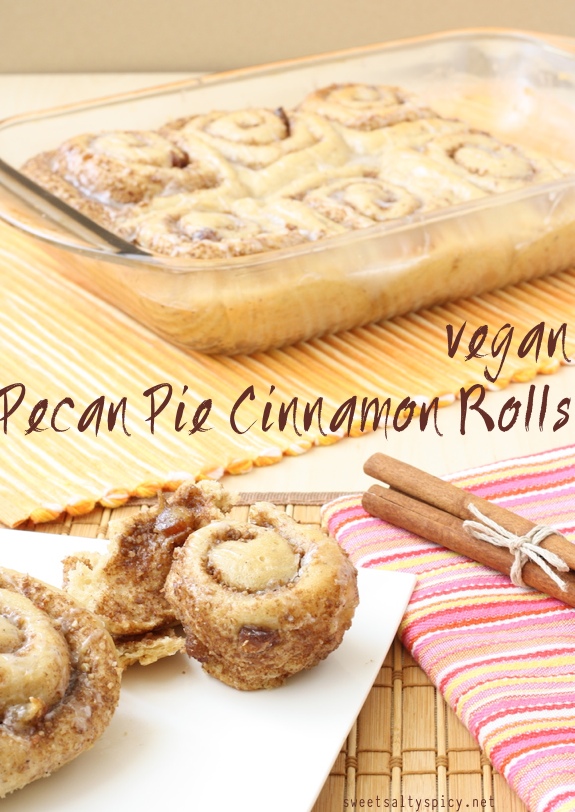 Vegan Pecan Pie Cinnamon Rolls
2015-08-13 15:50:57
vegan, soy-free option (use soy-free earth balance)
Yeast mixture
2 tsp active dry yeast
1/2 tsp sugar
1/2 cup 100-110°F water.
Dough
1/2 cup unsweetened plant-based milk
1/3 cup panela sugar, coconut sugar or brown sugar
1/3 cup earth balance buttery spread
1 tsp sea salt
1/2 flax egg: grind 1/2 tbsp flax seeds, mix with 1 1/2 tbsp water and set aside until gelatinous
1/4 tsp ground ginger
1/8 tsp ground cinnamon
1/8 tsp vanilla bean powder
Yeast mixture
3 cups unbleached all purpose flour, divided
Filling
1/8 cup earth balance buttery spread, at room temperature + more for the pan
1/2 cup pecans
1/8 cup panela sugar, coconut sugar or brown sugar
1 tbsp ground cinnamon
1/4 tsp freshly grated nutmeg
2 medjool dates, pitted and chopped in small pieces
Glaze
1/2 cup icing sugar
1/8 tsp vanilla bean powder
1 tbsp plant-based milk
Instructions
Mix flax egg and set aside.
Mix together yeast ingredients and set aside for 10 minutes until doubled in size and bubbly.
Meanwhile, combine the wet dough ingredients (milk, earth balance, sugar, salt, spices, vanilla and flax egg) in a small saucepan. Heat on medium heat and stir until combined. Remove from heat and let cool until it is 100-110°F.
Place 2 cups of flour in a bowl. When the saucepan mixture is cooled enough, add in the proofed yeast. Add the mixture to the flour and stir with a wooden spoon for 30 seconds.
Add the remaining 1 cup of flour. Mix with the spoon for 10 seconds, then knead with hands for an other 10 seconds. Place the dough on a floured surface.
Knead the dough for 10 minutes until it doesn't stick to the touch. Add flour if it starts to stick to the counter.
Shape into a ball and place into an oiled bowl. Cover with a wet towel and place in the oven with the light on. Let rise for 90 minutes.
Meanwhile, prepare the filling. In a food processor, add pecans, sugar, cinnamon and nutmeg and process until it looks like coarse flour. Make sure to take earth balance out of the fridge so it is at room temperature.
After 90 minutes of rising, poke the dough to make sure it is ready. If you poke the dough and it does not spring back, it is ready. Use your hands to spread the dough into an 8 inch by 20 inch rectangle. Go slow so you don't rip the dough.
Spread the 1/8 cup of room temperature earth balance on the dough with a pastry brush. Sprinkle all the pecan mixture on top, then sprinkle the chopped dates as evenly as possible.
Grab the end of the dough starting at the shortest end and roll the dough, trying to keep the sides as straight as you can. Let it rest on the seam when it's rolled up completely.
Coat a 9 by 13 inch baking dish with earth balance.
Grab some floss and cut the rolls (about 1-inch per roll), placing the floss underneath the dough and bringing it up and crossing it to cut the rolls. Place the rolls in the baking dish. Cover with a wet towel and place in the oven with the light on. Let rise 45 minutes.
Remove the rolls from the oven and preheat to 350°F. Remove the towel and bake for 25 minutes, until lightly golden.
Meanwhile, prepare the glaze by whisking all ingredients together. When the rolls are done, drizzle the glaze on them while they're still warm.
Notes
I highly recommend a thermometer when baking with yeast.
When chopping the medjool dates, add a bit of flour on your cutting board and roll them in the flour to avoid them sticking together.
Adapted from Vegan Raisin Cinnamon Rolls
Sweet Salty Spicy http://sweetsaltyspicy.net/