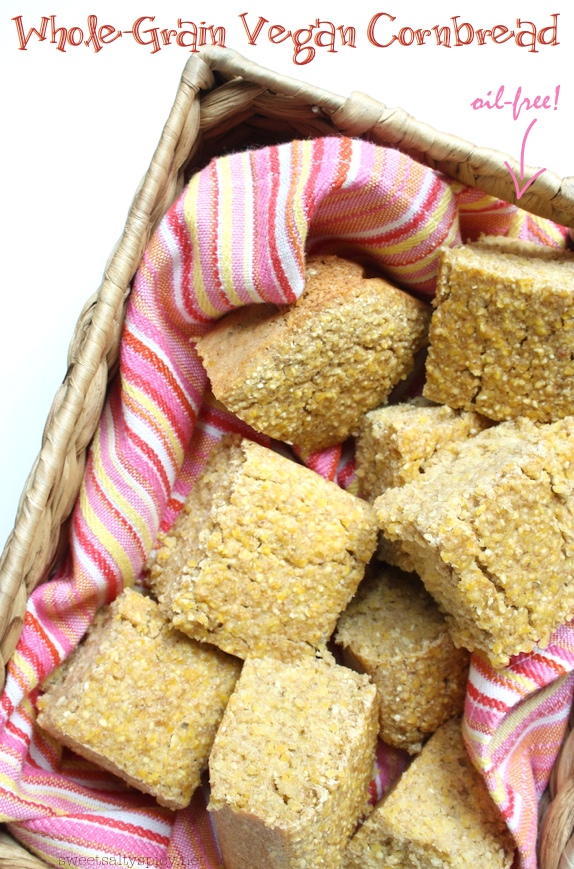 Soup is a fall and winter favorite of mine. However, I don't tend to eat appetizers unless I have company so I prefer to have my soups as a main dish. While some soups (usually those including beans and grains) fill me up, some just don't cut it as a main dish. And now I've found the perfect solution: cornbread!
I love cornbread and finally started making my own a couple weeks ago. I realized it was the perfect addition to a bowl of soup and decided to experiment and find the perfect cornbread recipe for my needs. First, it needs to be filling as the goal is to turn soup into an entree, so whole grains were a must. Of course, it needs to be vegan and I also wanted it to be oil-free since I do use oil in my occasional treats, but not in my everyday recipes.
While experimenting with recipes I found, I also discovered the wide world of cornbread, which seems to range from savoury to extra sweet! While I like any cornbread, I wanted mine to have a touch of sweetness without being overly sweet. And today I am finally sharing the cornbread that has an answer to all my expectations: it is a vegan, whole-grain, oil-free and slightly sweet cornbread!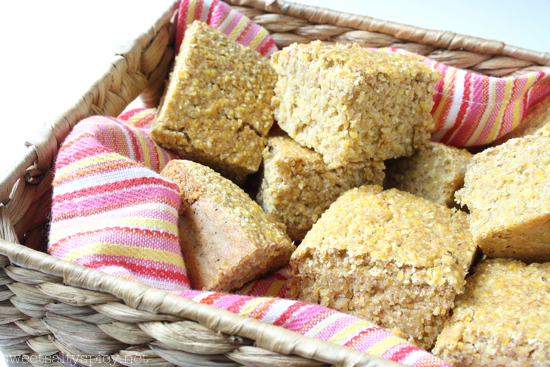 This cornbread is delicious as is, but even better if dipped in a brothy soup. The recipe is really easy: the basic mix dry ingredients, add wet ingredients and bake!
I like to always have some on hand, so I make a batch and freeze the individual squares. I use Oh She Glows' tip to freeze my food: I individually wrap each square and then put them in a freezer-safe bag, and I then take the air out of the bag with a straw. This is the only method I found that works with my freezer; I always ended up having freezer-burned food after only a couple days until I tried this! Definitely a life-saver trick.
By freezing my cornbread, I am sure I won't waste it and I also always have some if I make some soup, even if I don't feel like making the bread in addition to making the soup.
I hope you like it as much as I do!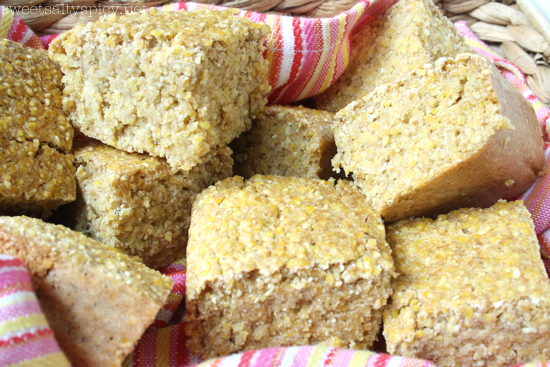 Whole-Grain Vegan Cornbread
2014-11-13 16:48:14
Serves 12
vegan, oil-free, nut-free, soy-free
Ingredients
2 cups unsweetened non-dairy milk
2 tsp apple cider vinegar
2 cups medium grind whole-grain cornmeal (I use Bob's Red Mill)
1 cup whole-wheat pastry flour
2 tsp baking powder
1/3 cup applesauce
2 tbsp maple syrup
1/2 tsp fine sea salt
Instructions
Preheat oven to 350°F. Line an 8x8 inch glass baking dish with parchment paper.
In a small bowl, mix milk and apple cider vinegar. Set aside.
In a large bowl, mix cornmeal, whole-wheat pastry flour, baking powder and salt with a whisk.
Add applesauce and maple syrup to the milk and vinegar and whisk to combine.
Add wet ingredients to dry ingredients and mix with a wooden spoon until well combined.
Bake for 50-60 minutes, until a toothpick inserted in the middle of the bread comes out clean.
Let cool in baking dish for 10 minutes.
Lift the bread out of the baking dish and let cool completely on a cooling rack.
Slice in four on each side to have 12 squares.
Adapted from Post Punk Kitchen
Sweet Salty Spicy http://sweetsaltyspicy.net/