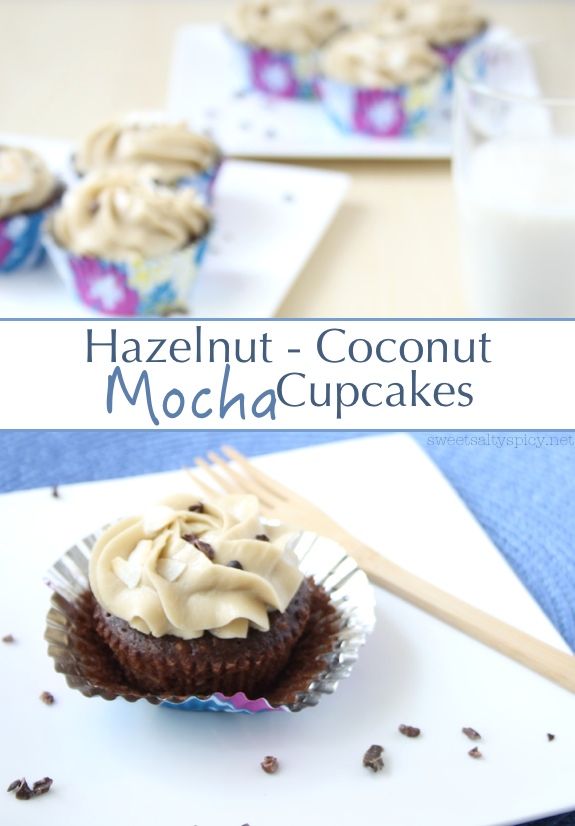 I wanted to make some cupcakes and was flipping through my cookbooks for ideas when I came across a recipe for chocolaty coconut cupcakes with a coffee frosting. I loved the idea of a coffee frosting, so I decided to give it a go! I added some Frangelico to the batter and frosting for a nice hazelnut touch and the combination of flavours ended up being perfect!
The cupcake is moist, chocolaty with a touch of hazelnut flavour and a flaky texture thanks to the coconut flakes. The fluffy buttercream frosting is also quite amazing: it has a deep coffee flavour and you can definitely taste the Frangelico, which complements the coffee flavour perfectly (hello hazelnut coffee!). While I don't usually have a sweet tooth (I always share my sweet treats), I ended up eating a lot more of these cupcakes than I usually do when I make some!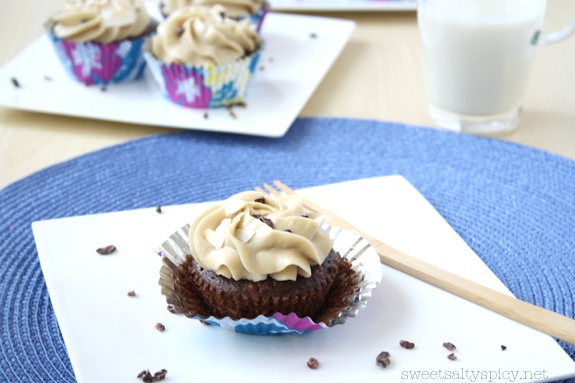 Hazelnut-Coconut Mocha Cupcakes
2014-11-10 16:22:47
Vegan & Soy-free
Ingredients
1 cup unbleached all-purpose flour
1/4 cup cocoa powder, sifted
1 1/2 tsp baking powder
1/4 tsp fine sea salt
1/2 cup Frangelico liquor
1/2 cup light coconut milk
3/4 cup cane sugar
1 tsp pure vanilla extract
1/4 cup coconut oil, melted
1/2 cup unsweetened shredded coconut
For the frosting
1/2 cup Earth Balance buttery spread, softened
2 tbsp Frangelico liquor
1 3/4 tsp coffee extract
1/2 tsp vanilla extract
3 cups icing sugar
Instructions
Preheat oven to 350°F and line a muffin pan with cupcake liners.
In a bowl, stir together flour, cocoa powder, baking powder and salt with a whisk.
In a separate bowl, beat together Frangelico, coconut milk, sugar and vanilla with a hand mixer. Mix in melted coconut oil.
Add the flour mixture in batches, beating well after each addition. Mix until smooth, then stir in shredded coconut.
Fill cupcake liners 2/3 full and bake for 25 minutes. Transfer to a wire rack and cool completely before frosting.
For the frosting
Using a hand mixer, beat earth balance with Frangelico, coffee extract and vanilla extract.
Add the icing sugar in batches, beating well after each addition.
When all the icing sugar is incorporated, beat on high speed for an additional 5 minutes.
Notes
For soy-free cupcakes, use soy-free Earth Balance buttery spread.
I used a 1M decorating tip and pipped the frosting starting from the center. I used cacao nibs and toasted coconut flakes for decoration.
Adapted from Vegan Cupcakes take over the world
Sweet Salty Spicy http://sweetsaltyspicy.net/