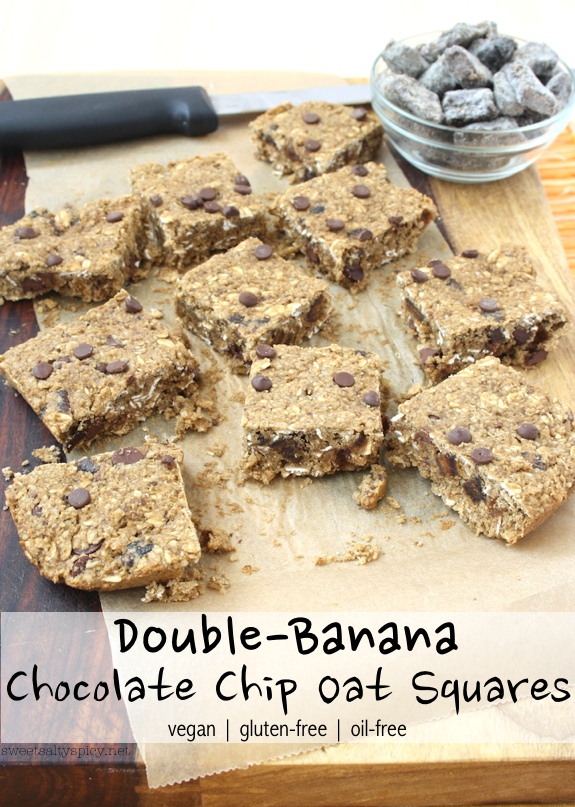 I've been seeing sun-dried bananas a couple times at the grocery stores and wanted to try them. I do love banana chips, but was intrigued by a more chewy dried bananas (the ones I found at my grocery store are by PRANA). Sundried bananas are chewy and taste like extra-ripe bananas (those that are ready to make banana bread with!). They are quite tasty, but I also tend to love bananas in baked goods and smoothies, but not as much by themselves. So I thought I should definitely try using my sundried bananas in baked goods.
I made Angela's Pumpkin Oatmeal Squares a while ago and loved them. They are quite filling, making them a perfect mid-day snack. I froze them and took some out when I was out of fresh snacks and I also often ate them before working out at night if I was hungry and knew I would not last until dinner. When I finished the last square, I thought oat squares would be perfect for my sundried bananas.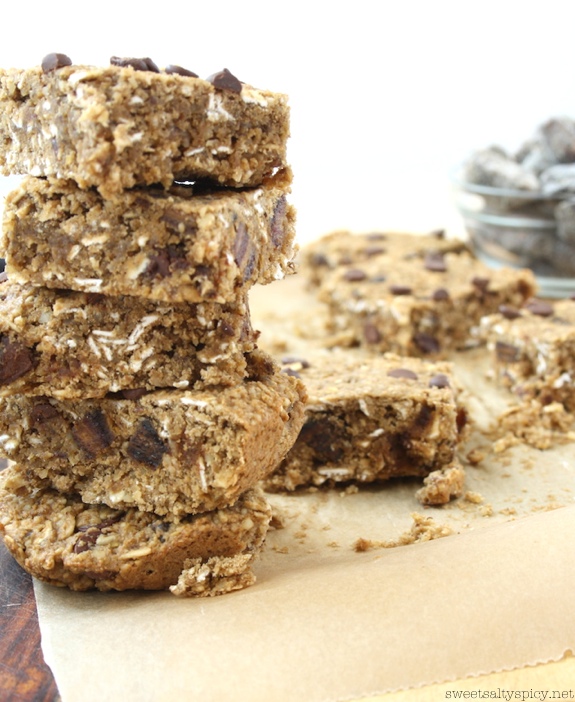 So I used bananas in the batter and added diced sundried bananas with chocolate chips (because chocolate is always a good option). The result is quite amazing! The chewy bananas complement the oat squares, which are more on the dry side, really well. And the flavours definitely work well with each other since its bananas with bananas! The squares have a subtle sweetness and banana flavour, and when you bite into a piece of sundried banana, you get a big burst of banana flavour, which I really love!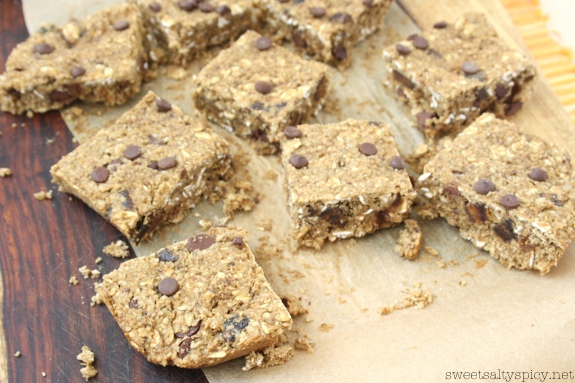 Double-Banana Chocolate Chip Oat Squares
2014-11-20 12:41:59
vegan, gluten-free, oil-free, soy-free
Ingredients
1 flax egg: mix 1 tbsp flax seeds, grounded, with 3 tbsp water and set aside
1 very ripe banana (it should be completely black or close to it)
1/2 cup coconut sugar
1 tsp vanilla extract
3/4 tsp coffee extract (optional)
1/2 tsp baking soda
1/2 tsp fine sea salt
1/2 tsp ground cinnamon
3/4 cup oat flour
3/4 cup rolled oats
3/4 cup almond flour
1 tbsp arrowroot powder
1/3 cup sundried bananas, cubed
1/4 cup + 1 tbsp dark chocolate chips, divided
Instructions
Preheat oven to 350°F and line an 8x8-inch square pan with parchment paper.
In a large mixing bowl, mash the banana with a fork.
Add coconut sugar and beat with a hand mixer until combined.
Add in the flax egg, vanilla extract and coffee extract and beat until combined.
Add the baking soda, salt and cinnamon and beat again.
In a medium bowl, mix oat flour, rolled oats, almond flour and arrowroot powder. Add to the wet ingredient and beat until combined.
Stir in sundried banana and the 1/4 cup of chocolate chips.
Spoon dough into prepared pan and spread out until smooth and mostly even. Since the dough is sticky, covering the dough with a piece of parchment paper helps to spread it (I cover with parchment paper and spread with my hands).
Sprinkle the remaining 1 tbsp of chocolate chips on top and press down.
Bake for 18-20 minutes, until lightly golden and firm to the touch.
Place pan on a cooling rack for 10 minutes.
Lift square out and place directly on the cooling rack for 20 minutes, until cool.
Slice in four in each direction to have 12 squares.
Notes
I used regular chocolate chips in the batter and mini chocolate chips on top.
For a gluten-free square, make sur to use certified gluten-free ingredients.
I don't think the coffee extract makes the squares taste like coffee, but it does give an additional "layer" of flavour and tones down the sweetness of the banana.
Adapted from Oh She Glows
Sweet Salty Spicy http://sweetsaltyspicy.net/