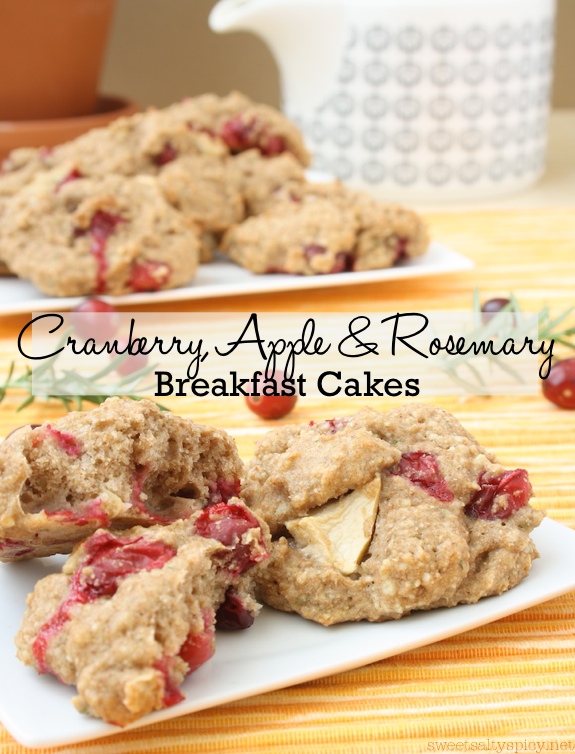 I was at a restaurant earlier this month and saw that their special was a cranberry and apple savoury scone with rosemary in it. I loved the idea of using rosemary in scones and although I never think to use fresh cranberries in my recipes, I actually love them! So I decided to recreate the savoury scones are home.
And then because I wanted to use applesauce instead of oil, they became sweet scones. I could have used something else, but applesauce was a no-brainer since I was already adding chopped apples in there! And then I experimented to make my scone and ended up with this marvellous creation.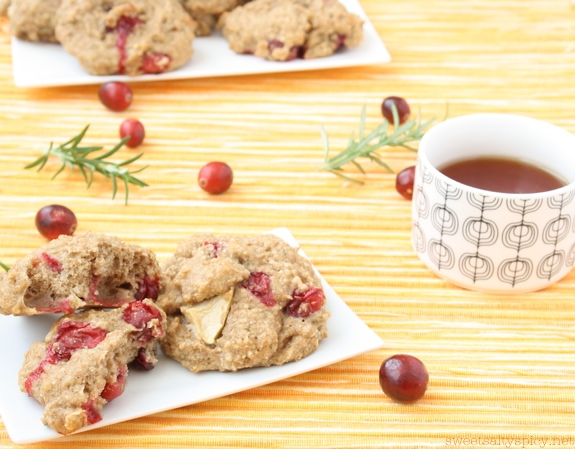 I did not feel like this was a scone because of the really light and moist texture, that is really far from dense, crumbly scones. I could have kept on testing recipes to make them into scones, but I love them so much like this, there really is no point! I made the recipe a couple times to find the perfect rosemary amount to have a light aroma that isn't over empowering and complements the fruit. The sweet apple with the tart cranberries and the subtle but pungent flavour of the rosemary complement each other really well. I brought one batch to a meeting and they were a big hit!
The result is really a mix between a muffin, a scone and a cake, but I decided to call them breakfast cakes because that is just fun! Although I called them that way, I also enjoy them as a snack or dessert!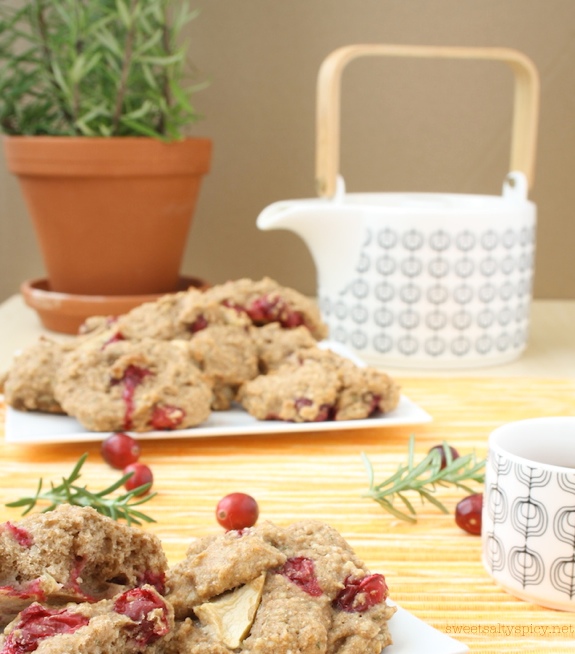 Cranberry, Apple & Rosemary Breakfast Cakes
2014-11-24 15:38:28
vegan, oil-free, soy-free
Ingredients
1 1/2 cups whole wheat pastry flour
1/2 cup almond flour
1/4 cup cane sugar
1 tbsp baking powder
1/2 tsp fine sea salt
2 big sprigs of rosemary, stem removed and very finely chopped
1/2 cup applesauce
3/4 cup unsweetened almond milk
1 cup fresh cranberries
1 medium apple, chopped (yields approximately 1 cup; I used McIntosh)
Instructions
Preheat oven to 425°F and line a baking sheet with parchment paper.
In a large bowl, combine whole wheat pastry flour, almond flour, sugar, baking powder, salt and rosemary.
Add applesauce and mix until incorporated and flour mixture is crumbly (you might have to use your hands).
Add the almond milk and stir with a spoon until incorporated and you have a homogenous batter, without over mixing.
Stir in cranberries and chopped apple.
Use a 1/4 cup measure to drop batter on your baking sheet. Leave some space (I would say at least 2 inches) between each cake as they double in size while baking.
Bake for 20 minutes, or until lightly golden. Transfer to a cooling rack.
Notes
I suggest storing in an air-tight container with a piece of paper towel placed on the bottom as the paper towel will absorb excess humidity.
Sweet Salty Spicy http://sweetsaltyspicy.net/