I was quite excited to get a bag of Kiss Me Organics matcha to review because, well… I love matcha! My favorite way to enjoy matcha is in a latte, although I also like it just whisked in hot water. I also love using it in recipes, such as smoothies, cakes and other treats. However, I often shy away from using it in my baked goods since I find it quite expensive.
This is what I like most about Kiss Me Organics matcha: it has a very good value for organic matcha powder, making it perfect for baking. The taste is great and although some high end japanese matcha powders do taste better (Kiss Me Organis is a chinese matcha), I find that it is better than other matcha powders you would have for the same price. Unless you are a matcha connaisseur, you will definitely love this matcha, which is exclusively sold on Amazon.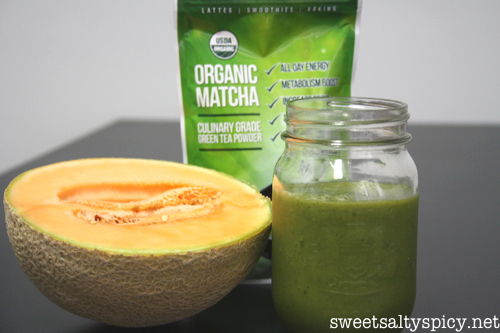 Because I had come delicious juicy cantaloupe from my organic food basket, I decided to make a smoothie with it and matcha power. I added some mango, and also a little bit of maple syrup to cut through the more grassy taste of the matcha. The result was a refreshing and flavourful smoothie, with the sweetness of the cantaloupe and the slight bitterness of the matcha as predominant flavors.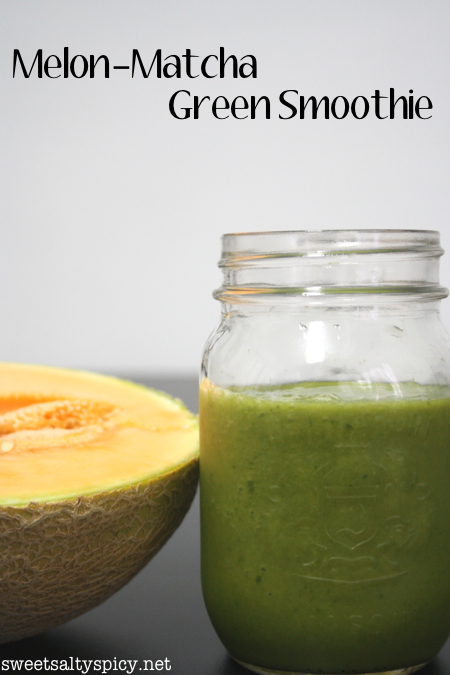 Melon-Matcha Green Smoothie
Ingredients:
1/4 cup water
3/4 cup diced cantaloupe
1/4 cup frozen mango
2 leaves kale, destemmed
1 tsp matcha powder
1 tsp maple syrup
5 ice cubes
Directions: Put all ingredients in a blender and process until smooth.
Makes 1 smoothie.