Before making granola for the first time, I thought it was hard and long to make. Then I made it once, and realized it is soooo quick and easy! Since then, I developed a love for making granola and creating new flavors. This is my fifteenth granola recipe! Crazy!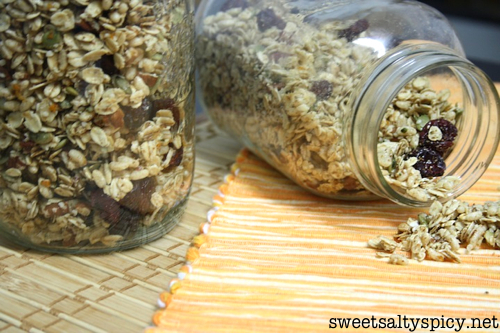 I actually created this recipe during the holidays because I wanted something christmasy and I thought orange and cranberries were perfect. It was my first time using orange in a granola and I loved it! It definitely yields a sweet and flavorful granola.
Although I created the granola during the holidays, fruity flavors are also perfect for spring! So here I am, sharing a granola recipe that is, in fact, perfect for every season.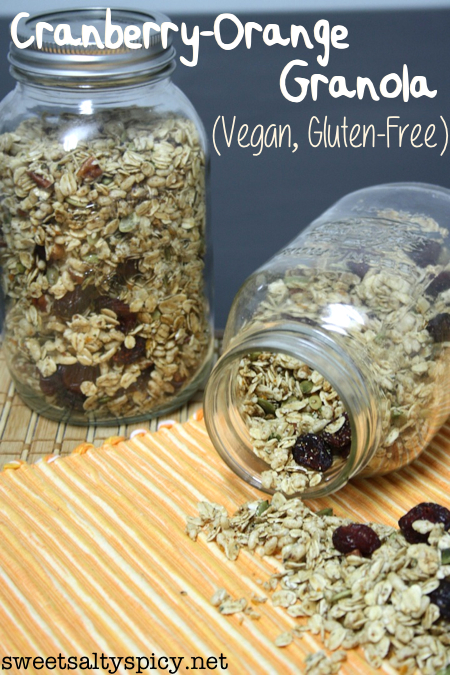 Cranberry-Orange Granola
Dry ingredients:
3 cups rolled oats
1 cup brown rice crisp cereal
2 tbsp flax seeds, grounded
3 tbsp hemp seeds
1/3 cup pepitas
1/3 cup walnuts, chopped
Wet ingredients:
1/4 cup brown rice syrup
1/4 cup maple syrup
1 tbsp coconut oil
1/2 tsp pure vanilla extract
1 tsp orange flavor
zest of 1 orange
Add-ins:
Directions: Preheat oven to 325°F and line a baking sheet with parchment paper. In a large bowl, mix dry ingredients. Add all the wet ingredients to a small saucepan. Cook over medium-low heat, stirring, until everything is well combined. Pour on dry ingredients and stir until coated.
Spread evenly on the baking sheet and bake for 20 minutes, stirring after 10. Let cool completely on the baking sheets.
Transfer to a bowl and stir in the dried cranberries. Store in an air-tight container.