Kale chips are amazing. You can buy them at some grocery stores and health stores, but they are quite expensive. And it is super cheap to make! I love making different flavors and this is one of my favorites.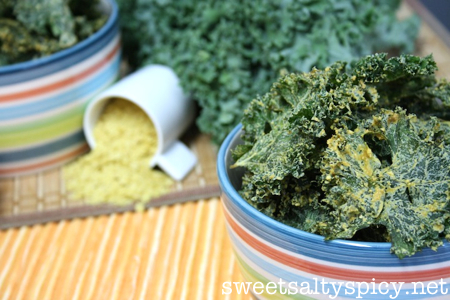 I use nutritional yeast (the vegan "cheese"), which is packed with B-vitamins, folic acid, selenium, zinc and protein. Combine this with the amazing kale, packed with vitamin K, vitamin C, vitamin A, manganese, calcium, iron and a lot more, and you have quite a healthy and nutritional snack. Dehydrating is a good option because the chips won't lose their nutritional value from the heat. However, if you don't have a dehydrator, feel free to make them in an oven.
They are so delicious, they might actually give you only one serving :P.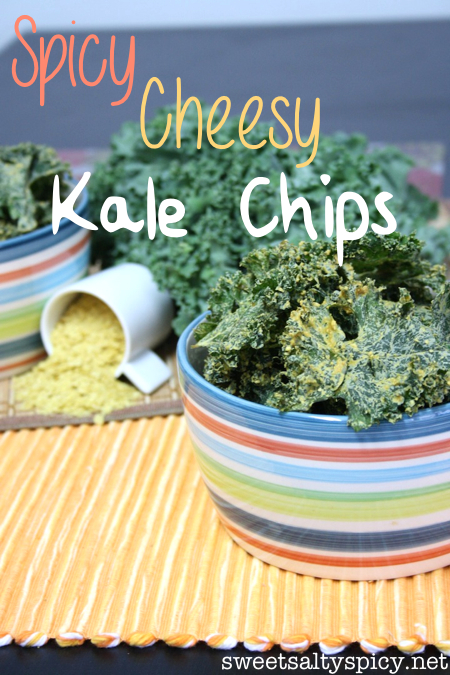 Spicy Cheesy Kale Chips
Ingredients:
1 bunch kale, teared into 2-3 inch pieces
1 tbsp water
1/3 cup nutritional yeast
Juice of 1/2 lemon
1 tbsp apple cider vinegar
1/2 tbsp extra virgin olive oil
1 tsp sriracha sauce
1/4 cup raw cashews, soaked a couple hours or overnight
Directions: Put all the ingredients except for the kale in a blender or food processor and process until smooth. Pour on kale and massage with hands until all the leaves are coated.
Option 1 is to lay out on dehydrator sheets (line them with parchment paper for easy clean up). Dehydrate for approximately 12 hours until crispy. I make them at night and leave them in the dehydrator all night.
Option 2 is to make them in the oven. Preheat oven to 275°F. Lay out the kale chips on baking sheets lined with parchment paper. Bake approximately 20 minutes, until crispy.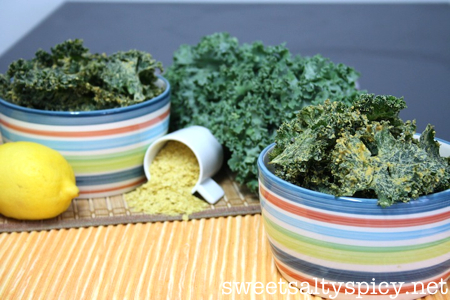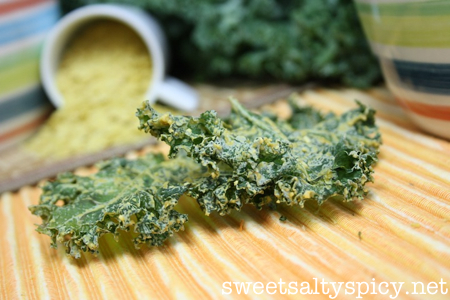 The chips have a tangy cheesy flavor and, as I said, they are amazing! The apple cider vinegar and lemon juice really bring out the flavor from the nutritional yeast. If you don't want them to be spicy, skip the sriracha. For extra spiciness, I would add a habanero pepper in the sauce instead of the sriracha sauce!