Last week I went to my favorite vegan restaurant here in Montreal (Aux Vivres). I ate a delicious mixed plate with a chickpea curry, some kind of tofu stew and salad, among other things.
Of course, I ended up craving more chickpea curry. So I made a big batch at home. I decided to make a big pot to save time and to freeze some for when I don't have time to cook (hum hum… mid semester).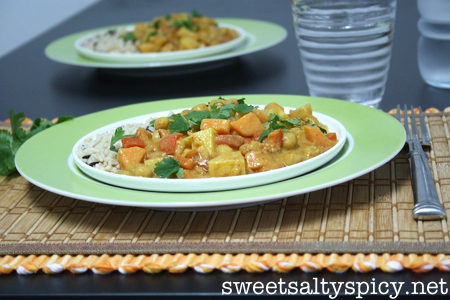 I wanted it to be extra creamy and it is thanks to the combination of coconut mil and almond butter. Both don't taste a lot… the strong flavor is definitely the garam masala and that's the way it should be. But the coconut milk and almond butter do add some depth to the flavor (in addition to the absolute creaminess).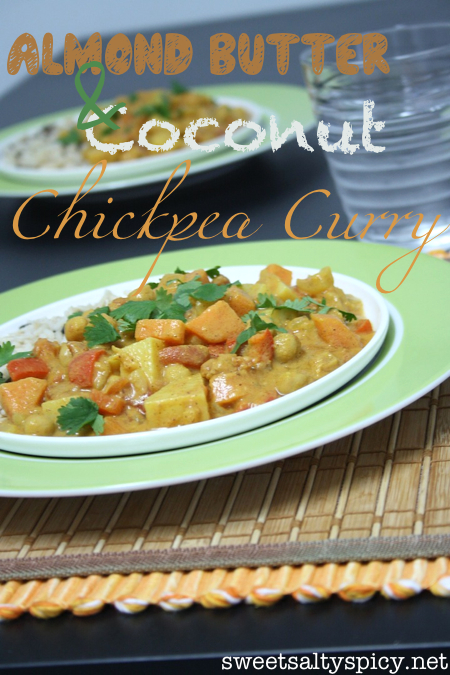 Almond Butter & Coconut Chickpea Curry
Adaptation of Spicy African Peanut Slow Cooker Soup, Peas and Thank You Cookbook
Ingredients:
1 tbsp virgin coconut oil
1 white onion, finely chopped
2 cloves garlic, pressed
1 cup cauliflower in very small florets
1 red bell pepper, finely chopped
2 sweet potatoes, diced
1 russet potato, diced
2 tbsp grated fresh ginger
1 can (28oz) diced tomatoes
2 cans (400 ml each) light coconut milk
1/2 cup smooth almond butter
2 tbsp garam masala (or curry powder)
2 tsp cumin
2 cans (19oz each) chickpeas
Fresh cilantro for garnish
Directions: Heat coconut oil in a large pot over medium heat. Add onion and garlic and cook, stirring, until onion starts to get translucent. Add cauliflower and potatoes and cook for 1 more minute. Add all remaining ingredients, stir and bring to a boil. Cover and reduce heat to low. Let simmer for 1 hour, stirring occasionally.
Serve with you grain of choice if you want to (I like rice and bulgur) and garnish with cilantro.
Serves 8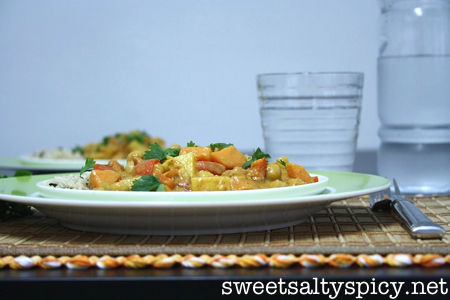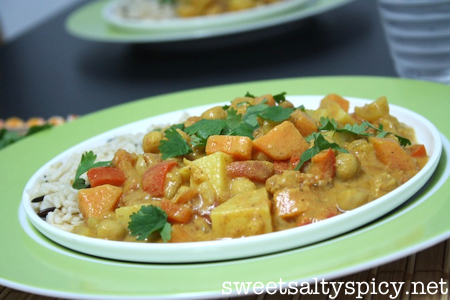 This curry is so easy to make. It is flavorful and filling, and a perfect dish for the colder fall weather. The sauce is thick, which I like more than when it is more brothy. The cilantro is optional, but I love adding some color to my dishes, as well as something fresh.