Have you ever made your own salsa? Easy to make, you can adapt it to your taste which will definitely make it better than the store-bought kind… and healthier too!
For a summery salsa, I decided to make one with mango. I often see mango salsas that literally use mangoes instead of tomatoes. For me, this looks more like a mango salad because salsa = tomatoes! So my mango salsa definitely has tomatoes in it ;).

Fresh Mango and Tomato Salsa

Ingredients:
3 medium tomatoes, finely chopped

1 ataulfo mango, finely chopped
1/4 cup finely chopped red onion
1 jalapeño, seeds removed and finely chopped
1/2 habanero pepper, seeds removed and very finely chopped
1 clove garlic, minced
Handful of cilantro, chiseled
Juice of 1 lime
2 tbsp strained tomatoes
1 tbsp tomato concentrate
Salt to taste
Note: Be very careful while handling the hot peppers, especially the habanero. If you can, avoid touching them with your hands and wear gloves when chopping them. Wash your hands thoroughly with soap and hot water after handling and avoid touching your eyes. If you can, avoid using a wood cutting board (it will absorb the oil from the pepper) and wash your cutting board and knife well with soap and hot water, which will remove the oil from the pepper.
Directions: Combine all the ingredients in a medium sized bowl. Let it wit for a couple hours or overnight for the flavors to combine. Keep in the fridge in an air-tight container.
If you don't want a spicy salsa, don't use the habanero pepper.
Makes approximately 2 cups.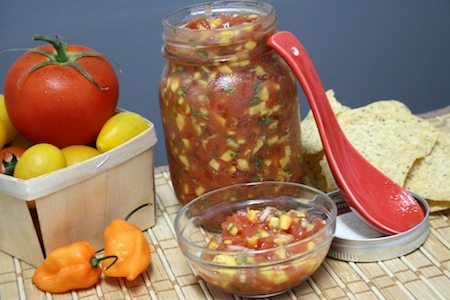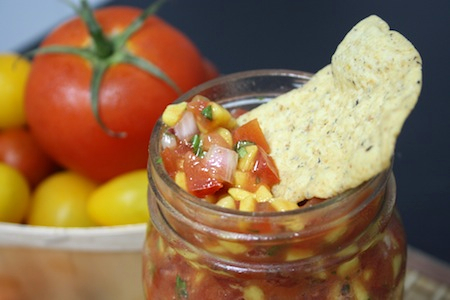 This salsa is a delicious summer treat!
You can definitely taste all the flavors in there and they go perfectly with each other. The sweetness from the mango and the spicyness from the hot peppers are definitely the stronger flavors, but you also get the aroma from the cilantro and garlic.
Serve with nachos or crackers, top your protein with it or just eat it by the spoonful!