I was walking out of school and they were giving out free spreadable brie on the street. I guess they were tired and eager to go home, because instead of giving one package of brie, they were giving out the whole boxes of brie. So I ended up with 6 packages of spreadable brie, and was definitely wondering what I could do with all that yummy cheese.
What about a creamy pasta sauce?
It was so good that I ate it all without taking pictures of it. Good thing I snapped one with my phone before tasting it ;).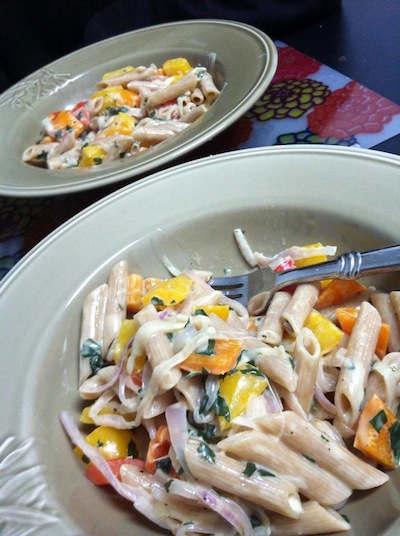 Creamy Brie and Bell Pepper Penne
Adaptation of "Pennes aux poivrons et au mascarpone", Menu Végé
Ingredients:
1 package (375 g) penne – I used Kamut

2 tbsp extra virgin olive oil

2 cloves garlic, pressed
2 red onions, cut in half and thinly sliced
3 bell peppers (I used one orange, one red and one yellow), coarsely chopped
3 packages (100 g each) spreadable brie
Juice of 1/2 lemon
1/2 bunch of flat-leaf parsley, chopped
Black pepper to taste
Directions:
Bring a large pot of water to a boil. Meanwhile, heat olive oil in a large saucepan over medium heat. Add garlic, onions and bell peppers and cook for 10 minutes.
Add penne to the boiling water and cook according to package directions. Add half the brie, the lemon juice, parsley and black pepper to the vegetables, reduce heat to medium-low and cook until the pasta is ready, stirring occasionally.
When the pasta is ready, drain it and add back to the pot. Add the second half of the brie to the penne and stir. Then add the vegetable and brie mixture and toss well.
Serves 5-6