I wanted to make a new granola flavor for my friend's birthday (she loves my granola). I had no idea what to make. And then I remembered the Carrot Cake flavor by Nature's Path that I saw at the grocery store. Carrot cake is one of my favorites so I decided to give it a try.
Carrots, walnuts, coconut, spices… everything you can add in a carrot cake is in this granola. And cake needs icing… so I decided to add yogourt-coated raisins for the "icing"!
Carrot Cake Granola
Dry ingredients:
 6 cups rolled oats
1 cup brown rice crisp cereal
1 cup raw buckwheat groats
1/2 cup wheat germ
1/4 cup wheat bran
4 tbsp whole flax seeds
4 tbsp hulled hemp seeds
2 tbsp chia seeds
1/4 cup unsweetened shredded coconut
1 1/2 cups walnuts, chopped
1 tbsp ground cinnamon
1 tsp ground nutmeg
1/2 tsp allspice
Wet ingredients:
3 carrot baby food jars (4.5 oz each)

2 tbsp virgin coconut oil
1/8 cup agave nectar
1-2 tbsp blackstrap molasses (to taste)
1/4 tsp pure vanilla extract
Add ins:
1 cup yogourt-coated raisins (skip/use more raisins for vegan granola)

1 cup raisins
1/4 cup toasted coconut flakes
Directions: Preheat oven to 350°F and line two baking sheets with parchment paper. In a large bowl, mix all the dry ingredients together.
Add carrot baby food, coconut oil, agave and molasses to a small saucepan and heat on low/medium heat until warm and well combined. Stir in vanilla.
Add the wet ingredients to the dry ingredients and mix until well coated. Spread on the baking sheets (cook in two batches if it doesn't fit on your baking sheets) and spread evenly. Bake for 20 minutes, stirring after 10.
Let cool on the baking sheet. When the granola is at room temperature, transfer to a large bowl and toss in the raisins and coconut flakes. Store in an air-tight container.
Makes approximately 12 cups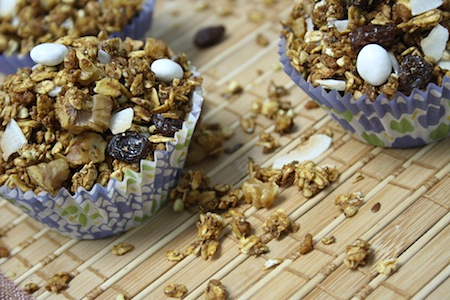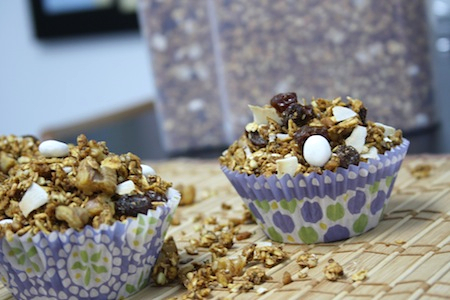 This granola is crunchy, sweet, spicy and delicious. I love molasses so I added 2 tbsp but adjust it according to your own taste since blackstrap molasses has a very strong taste. It will also make it more/less carroty depending on the amount of molasses you add.
I hope you'll like it as much as I do!