Two weeks ago, Angela from Oh She Glows posted a recipe for Three-Bean Salad, a recreation of Fontaine Santé's salad. Since I love this salad, I knew I had to try the recipe!
I actually planned to follow the recipe, but as it happens most of the time I ended up changing it. The salad was sooo good, with a perfect dressing to go with the beans. I should definitely make bean salads more often, I always forget how much I love them!

Easy 4-Bean Salad
Adaptation of Speedy Three-Bean Salad, Oh She Glows
Ingredients:
1 can (14 oz) no salt added cut wax beans
1 can (14 oz) no salt added cut green beans
1 can (19 oz) chickpeas, drained and rinsed
1 can (19 oz) red kidney beans, drained and rinsed
1 orange bell pepper, chopped
1 celery stalk, very finely chopped
1/3 cup packed chopped flat-leaf parsley
3 green onions, chopped
Dressing:
4 tbsp lemon juice
2 tbsp lime juice
2 tbsp walnut oil, or oil of choice
1 tbsp red wine vinegar
1 tbsp pure maple syrup
1 tbsp old-style (grainy) mustard
1 tsp white balsamic vinegar
1/2 tsp yellow mustard
2 drops tabasco
1 tbsp hulled hemp seeds
salt and pepper to taste
Directions: In a large bowl, combine toss all salad ingredients together. In a small bowl, whisk all the dressing ingredients together. Pour on salad and mix well. Place in fridge until ready to serve (the salad is better the next day). Store in an air-tight container in the fridge for up to one week.
Makes 7 cups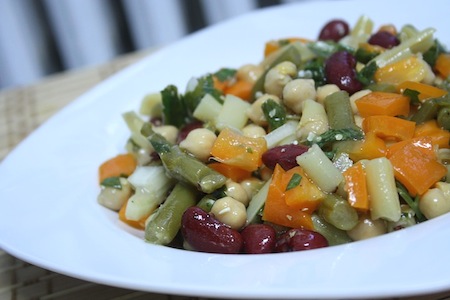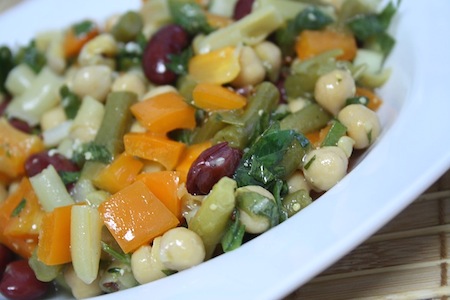 I loved this salad! Definitely a go-to recipe when you don't have lots of time and want to make lunches for the whole week! Can't really be easier than that.