I love fruit desserts. Some people don't like their fruit coked, well I do (although I also like it raw ;)). One of the fruit desserts I love is apple crisp. Sweet fruit with crunchy oats on top. So. Good.!
Don't ask me why, I actually never made non-apple crisps. Earlier this summer, I wanted to make a peach dessert. And so I made a non-apple crisp.

Peach & Blueberry Summer Crisp
Adaptation of Blueberry Crisp, Martha Stewart
Filling:
4 cups chopped peaches (with skin)
2 cups fresh blueberries
1/4 cup agave nectar
1 tsp lemon juice
1 tsp pure vanilla extract
1 1/2 tbsp cornstarch
Topping:
3/4 cup unbleached all purpose flour
3/4 cup rolled oats
1/2 cup pecans, coarsely chopped
1/2 tsp baking powder
1/4 tsp fine sea salt
1/2 cup butter or non-hydrogenated margarine, softened
1/3 cup maple sugar
Directions: Preheat oven to 375°F. Make the filling by mixing all ingredients in a bowl. Transfer to a 9 x 6 inch baking dish or equivalent.
Make the topping: stir together flour, oats, pecans, baking powder and salt. Cream butter and maple sugar together with a hand mixer until pale and fluffy. Stir in dry ingredients
Using your hands, sprinkle topping evenly over filling by making it into clumps. Bake until the fruit mixture is bubbling and the top is brown, about 1 hour. Let cool 30 minutes before serving.
Serves 6-8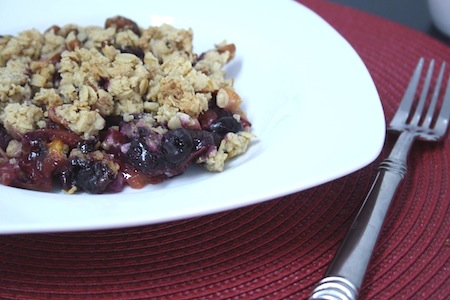 Apple crisp might not be that good after all. This one was way better! Amazing. The peaches and blueberries, the vanilla, the sweetness from the agave and the maple sugar in the topping; all the flavors went together perfectly.
D.e.l.i.c.i.o.u.s.