I have food phases. I eat the same thing every one/two days for some time, then I forget about it while I have an other food phase. Right now, I have a tofu phase. I ate tofu five times this week!
I used to hate tofu. Let's face it: it's bland. It tastes like… nothing! That's actually what I love about tofu now! You can make it have any flavor you want!
I like it baked with marinade and I also like frying it in the pan and dipping it in BBQ sauce. I tend to go more often for the oven option since I hate cleaning the pan after frying stuff. I also usually make the whole block of tofu when I bake it. I eat three to four meals with one block so that way I have leftovers, which is great on busy weeks.
Sweet & Spicy Baked Pineapple Tofu
Adaptation of The Perfect Baked Tofu, Healthy Tipping Point and Hot and Sweet Marmalade Glazed Tofu, Veggie Belly
Ingredients:
One package (350g) extra firm tofu
2 tbsp low sodium soy sauce
6 tbsp pineapple jam
1 tbsp lime juice
1 tbsp sriracha hot sauce
1/2 tsp agave nectar
1 tbsp sesame seeds
Directions: Preheat oven to 375°F. Wrap tofu in a clean towel or several layers of paper towel and place under a heavy book for 10-15 minutes. Meanwhile, make your sauce by whisking all the ingredients together. Microwave for 30 seconds and stir again.
Cut the pressed tofu into small triangles (I made 8 slices, then cut the slices into 4 triangles each).
Dip all the tofu pieces in the sauce and place on a baking sheet lined with parchment paper. Drizzle half the remaining sauce on the tofu pieces. Bake for 15 minutes. Flip the tofu and drizzle the remaining sauce. Bake for an other 15 minutes.
Serves 3-4.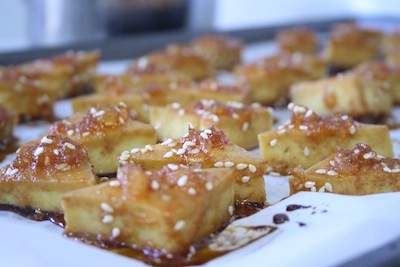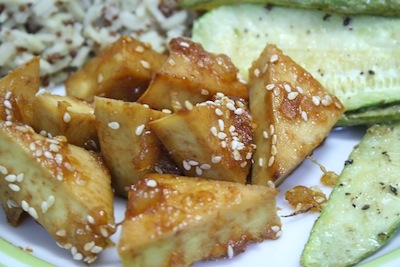 This is really a sweet & spicy sauce. Yep, I didn't lie when I named my recipe. I'm actually saying this because I often find "sweet and spicy" sauces to be too sweet and not spicy at all!
You can taste the sweet pineapple while feeling the burn from the sriracha… delicious! It makes the tofu anything but bland ;).