I used to hate risotto. Hate. Big word. But it's true.
Maybe it is the way it was prepared or something. Because all I can tell you is now, I love it.
I need my big bowl of creamy risotto quite often. And there is so much you can do with risotto besides using mushrooms! 😉
When I stumbled upon a Roasted Red Pepper Risotto on Pinterest, I knew I would love it. The next day, I was in the grocery store buying what I needed to make it with the extra ingredients I thought about (including artichoke hearts because I've been craving some for quite some time!).
And I got an incredible, flavorful, creamy, tasty, delicious, comforting bowl of risotto.

Roasted Red Pepper and Artichoke Heart Risotto with Goat Cheese
Adaptation of Roasted Red Pepper Risotto with Spinach, Bev Cooks
Ingredients:
2 red bell peppers, cut in half and seeded
4 cups vegetable broth
1 tsp dried basil leafs
2 tbsp olive oil
1 white onion, chopped
1 cup arborio rice
1/4 cup dry white wine
1 tsp butter
1/4 cup grated parmesan
1 can artichoke hearts, drained and chopped
1/2 log black pepper (or regular) goat cheese, coarsely crumbled
Directions:
Turn your oven to broil. Place the peppers on a rimmed baking sheet and broil the peppers until the skin is charred all over. Remove from oven and place them into a ziploc bag. Seal and let the bags sit for 10 minutes. Then peel the skin off the peppers. Place the peppers in a food processor and process until smooth.
Pour the broth in a medium saucepan, add dried basil and heat over medium heat until warm. Keep on low heat.
Heat olive oil in a large saucepan or very large skillet over medium heat. Add the onion and cook until translucent. Add arborio rice and cook, stirring, for one more minute. Add wine and cook, stirring, until most of the liquid is evaporated. Add one laddle of broth and cook, stirring, until most of the liquid is evaporated. Continue to add a ladle of broth at a time, stirring, until liquid is evaporated after each addition.
Add butter and stir until melted and combined. Stir in pureed roasted peppers, then grated parmesan and add the chopped artichoke hearts. Add goat cheese and stir enough to distribute in the risotto and melt a little, but not too much so there's pieces of cheese.
Serves 4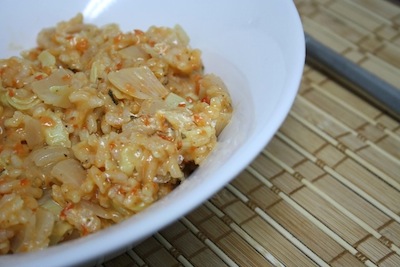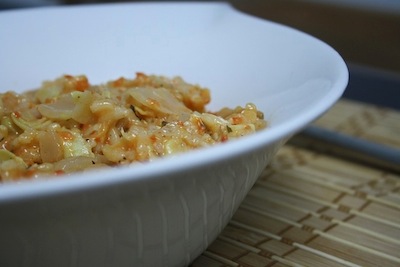 This risotto is addictive. All the flavors are perfect together, in just the right amount. Since I loooooove roasted red peppers, artichoke hearts and goat cheese, I might be a little biased, but hey! if you love them too, just try this recipe ;).