Well… sorry for the long absence. Some things are more important than blog post writing. Like midterms. That are o.v.e.r. Yay! :). I still have tons of reading, papers to write but hey… no exams until the end of the semester.
And there is one perfect way to reward yourself after midterms.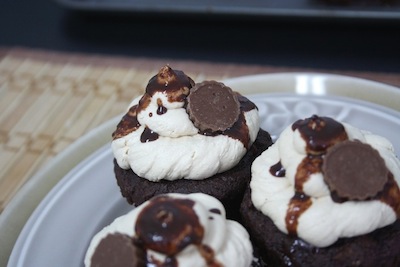 Cupcakes.
Actually, it's even better…
It's brownies transformed into cupcakes!
An idea that was waiting for me on my Pinterest Cakes board.

Peanut Butter Brownie Cupcakes
Inspired by Brownie Buckeye Cupcakes, Tried and Tasty – Adaptation of Triple Chocolate Coconut Mini Brownie Bites and "Peanut Buttercream", Vegan Cupcakes Take Over the World
Ingredients:
1/2 cup unrefined cane sugar
3/4 cup spelt flour
1/3 cup unsweetened cocoa powder
2 tsp baking powder
1/2 tsp baking soda
1/4 tsp fine sea salt
1 cup unsweetened applesauce
1 tsp safflower (or canola) oil
1 tsp vanilla extract
1/2 cup dark chocolate chips
1/2 cup peanut butter chips
Frosting:
1/2 cup butter, softened
1/4 cup vegetable shortening
2/3 cup smooth peanut butter (I used the Kraft processed stuff, I thought it would hold better in the frosting)
1/2 tbsp fancy molasses
1 tsp pure vanilla extract
2 tbsp milk
2 1/2 – 3 cups icing sugar
Chocolate syrup:
1/4 cup milk
1/3 cup chocolate chips or chopped chocolate
1 tbsp pure maple syrup
Topping:
Directions: Preheat oven to 375°F and line a muffin pan. In a bowl, use a whisk to mix dry ingredients (sugar, flour, cocoa, baking powder, baking soda, salt). In a second bowl, whisk applesauce, oil and vanilla. Add dry to wet ingredients and mix until incorporated. Mix in chocolate and peanut butter chips.
Fill the muffin tins 2/3 full. Bake for 20 minutes. Let cool completely on wire rack before frosting.
To make the frosting, beat the butter and shortening with a hand mixer until smooth. Add peanut butter, molasses, vanilla and milk and beat until very smooth. add icing sugar in 1/2 cup batches until incorporated. Beat for about 5 more minutes, until icing is pale and fluffy. The recipe makes a lot of frosting, no need to double it if you want to frost the cupcakes generously.
To decorate the cupcakes, make the chocolate syrup. Heat the milk in a small saucepan until it is just starting to boil. Add the chocolate and maple syrup and stir until the chocolate is melted. Let cool at room temperature. Remove the cupcake liners and frost the cupcakes. I frosted my cupcakes with a #12 tip. Then, place the cupcakes on parchment paper and drizzle chocolate syrup on each cupcake. Add a mini Reese on each cupcake.
Makes 12 cupcakes.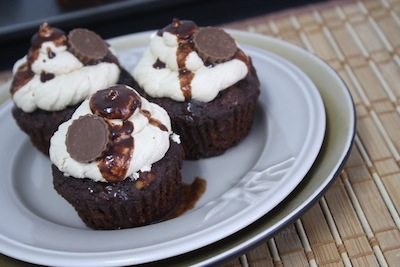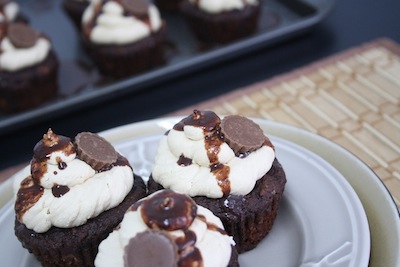 The cupcakes were amazing. If you love the chocolate & peanut butter combo, you'll definitely love these. The brownie is decadent and the frosting is very light and fluffy!