I just got home. It's late. It's time for dinner and I am starving.  And I have no idea what I am going to eat. I think about what I have to work with. I do have a package of gnocchi… Maybe I could do something with it.
A little search in my bookmarked recipes, and I'm in the kitchen making a quick, delicious dinner:

Creamy Mushroom Gnocchi
Adaptation of Fresh Gnocchi with Mushroom Cream Sauce, The Culinary Chronicles
Ingredients:
2 tbsp olive oil
1 tbsp butter
2 cups sliced cremini mushrooms
3 cloves garlic, pressed
1/2 tsp dried parsley
1/2 tsp dried thyme
1 cup vegetable broth
1/4 cup cream
1 tbsp cornstarch mixed with 1 tbsp water
1 package (500g) gnocchi
Parmesan cheese (optional)
Directions: Bring a large pot of water to a boil. Meanwhile, make your sauce.
Melt butter with olive oil in a saucepan over medium heat. Add mushrooms, garlic, parsley and thyme and cook until tender. Add stock an increase to medium-high heat. Once the stock comes to a boil, reduce to medium heat and add cream and cornstarch mixture. Bring back to a boil and cook on medium-low for 2-4 minutes.
Add gnocchi to boiling water and cook according to package directions (usually takes 2-3 minutes, like the sauce! ;)).
Add gnocchi to the sauce and mix. Serve garnished with parmesan if desired.
Serves 3-4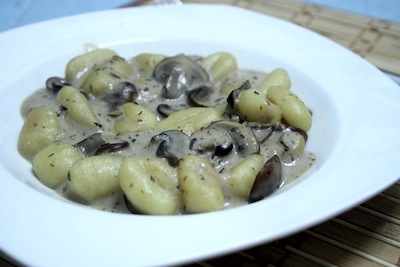 This sauce is extra-mega-quick-and-easy to make. And so, so good. It tastes like Campbell's cream of mushroom soup with MORE mushrooms. And with gnocchi ;).