This summer, I made Angela's Spiced Apple Pie Chips for a party. They were sooo good.
When fall came, apple season came, and I made tons of apples chips. And then I thought… what about pears?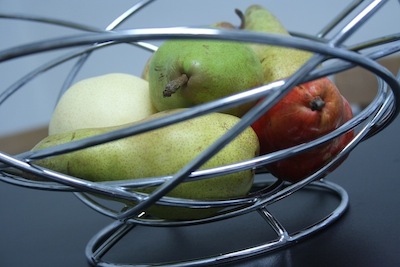 I wanted to make apple chips again but realized pear chips would probably be amazing too! And guess what… pears are in sale at the grocery store this week ;).
I decided to use maple sugar for a different flavor and less cinnamon than I used for the apples. Regular sugar would work too if you don't have maple sugar!
I used 5 different kinds of pears, which explains why they are mix & match pear chips :).
Mix & Match Sweet Cinnamon Pear Chips
Ingredients:
5 pears of your choice
A couple splashes of lemon juice
1 tbsp maple sugar
1/2 tsp ground cinnamon
Directions: Line dehydrator sheets with parchment paper. In a small bowl, mix sugar and cinnamon. Slice pears into very thin slices, leaving skin on. You can use a mandolin if you have one. Place the pear slices in a bowl and toss with a couple squeezes of lemon juice. Place the pear slices on the dehydrator sheets, making sure they don't overlap. Sprinkle the sugar mixture on top. Dehydrate for 8-10 hours, flipping the pear slices a couple times. Dehydrate less if you want them to stay a little chewy, dehydrate more if you want them extra crispy!
Serves 5-6 as a snack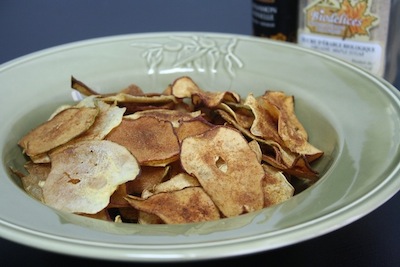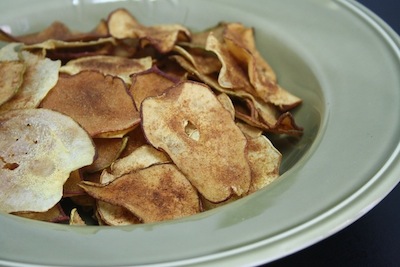 All the different kinds of pears taste a little different! The Asian pear tastes more like cinnamon and stays a little chewy and the other kinds of pears are sweeter and closer to caramelized pears. The sweetest chips are the red pear chips. The sweet pear taste got stronger for all the pears, except for the Asian pear since it is closer to an apple.
Apple and pear chips rock my world! 😛