I love to make a batch of muffins on Sunday because I can have a quick and healthy breakfast all week. Wake up later, take a muffin and eat it at school. Happy me.
I love wheat bran muffins but I never made any before. I just never bought wheat bran before. But when I saw wheat bran at the grocery store this weekend, I thought I should buy some, because that way I'd have to make some wheat bran muffins sometime!
Sometime was earlier than I thought… the oat bran muffins I made on Monday (long weekend :)) were disgusting not good. So I decided to make wheat bran muffins, starting with a recipe with very good ratings. I didn't know what flavor I wanted to make, and then  I realized that I had TONS of carrots in my fridge.
Carrot muffins it was.

Carrot Wheat Bran Muffins
Adaptation of Classic Bran Muffins, allRecipes
Ingredients:
1 tbsp cider vinegar + almond milk to make 1 cup
1 1/2 cups wheat bran
1 flax egg (1 tbsp flax seeds, grounded + 3 tbsp water)
1/3 cup applesauce
1/3 cup brown sugar
1/2 tsp vanilla extract
1 cup whole wheat flour
1 tsp baking soda
1 tsp baking powder
1/2 tsp fine sea salt
1 tsp ground cinnamon
1 1/2 cups grated carrots
1/3 cup raisins
1/4 cup pecans, chopped
Directions: In a measuring cup, add 1 tbsp apple cider vinegar, then fill with almond milk to make 1 cup. Stir and set aside a couple minutes until curdled. Then, add almond milk mixture to wheat bran, stir well and wet aside for 10 minutes.
Meanwhile, prepare flax egg by whisking grounded flax and water. Set aside.
Preheat oven to 375°F. Line a muffin tin with paper liners. When the wheat bran mixture is ready, beat flax egg, applesauce, sugar and vanilla with a hand mixer. Beat in wheat bran mixture. In an other bowl, mix flour, baking soda, baking powder, salt and cinnamon. Add the dry ingredients to the wet ingredients and stir with a wooden spoon until combined. Stir in grated carrots, raisins and pecans.
Spoon the batter in the prepared muffin tins. Bake for 20 minutes, or until a toothpick inserted in the center comes out clean. Let cool 5 minutes in the muffin tin before transferring to a cooling rack.
Makes 12 muffins.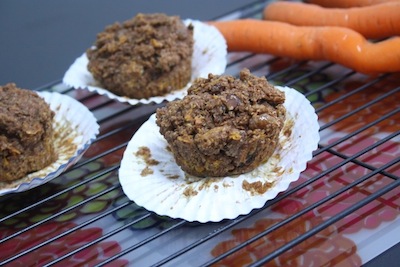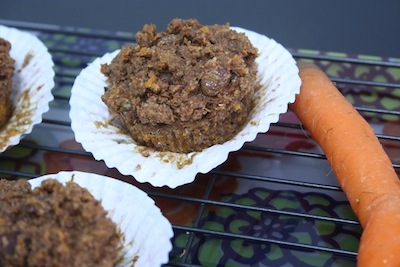 I loved these muffins! First, they are extra healthy. Second, they are extra healthy AND extra tasty ;).
They are just a little moist, have the great texture and flavor of wheat bran muffins and the raisins added a little sweetness, while the pecans added a great crunch! Perfect quick breakfast.