When I saw Angela's Stuffed Mushroom Phyllo Roll, I knew I had to make something like this. It is mushrooms. In a flaky, buttery phyllo dough. And I love mushrooms. And I love, love, love phyllo dough.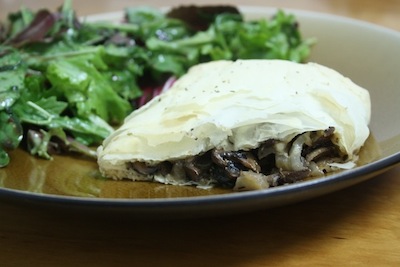 One of the first recipes I made was a phyllo dough tart and I loved making it. Brushing thin sheets of phyllo with tons of butter is awesome. And by now, I've learned that anything made with phyllo dough is delicious.
But I didn't love mushrooms that much for a long time. I did like them, but I didn't love them. And I still don't like white mushrooms that much, but there are so many flavorful, delicious mushroom varieties! Trying all those different mushrooms turned me into a mushroom addict.
Portabella mushroom? D.e.l.i.c.i.o.u.s.
Mushroom Phyllo Roll? Definitely making this again!

Mushroom Phyllo Roll
Adaptation of Stuffed Mushroom Phyllo Roll, Oh She Glows
Ingredients:
7 sheets phyllo dough, thawed according to package directions
2 tbsp olive oil, divided
1 pkg (227 g) crimini mushrooms, sliced
2 porteenie mushrooms, stems removed, cubed
1 pkg (85 g) oyster mushrooms, coarsely chopped
1/2 white onion, chopped
3 cloves garlic, pressed
1 cup loosely packed spinach, stems removed & roughly torn
1/2 tbsp dried thyme + more to sprinkle
Salt & pepper to taste
1/2 tsp balsamic vinegar
1/2 cup cheddar cheese
~ 1/2 cup melted earth balance or butter
Directions: Preheat oven to 350°F and line a baking sheet with parchment paper. In a large skillet, heat 1 tbsp olive oil on medium heat. Add crimini and porteenie mushrooms and cook for 5 minutes. Add oyster mushrooms and continue cooking for 5-7 minutes, until the water cooks off.
Reduce heat to medium-low and add 1 tbsp olive oil + the onion, garlic and spinach. Cook for 5-6 minutes. Add thyme, salt and pepper and remove from heat.
Place one sheet of phyllo dough on the baking sheet and brush with the melted butter. Repeat for 7 layers. Add the balsamic vinegar and cheese to the mushrooms and stir. Scoop the filling along the longest side of the phyllo dough, leaving about an inch on each sides. Roll the edges inward, and then roll into a log. Brush the log with more melted butter and sprinkle with dried thyme.
Bake at 350°F for 30-35 minutes, until golden. Slice into four pieces.
Serves 4 with a side dish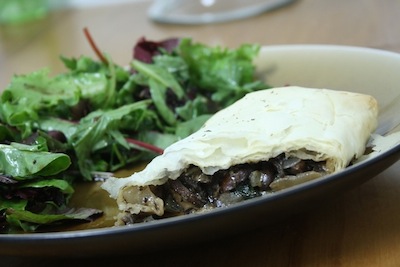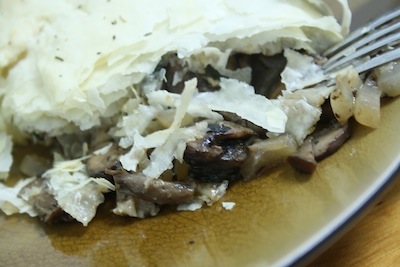 This was a delicious, easy meal. It does take a little time, but it is nothing complicated. The mushrooms are perfect with the buttery dough. We ate this with a big side of spring mix with balsamic vinaigrette and it was just enough.
Hope you had a great long weekend!