So… I did promise you a soup recipe!
This summer, I discovered one thing. I really love winter food. Soup and stews are easy to make, delicious, make tons of yummy leftovers, are comforting. I do love my summer smoothies, but nothing beats a delicious soup on a cold day. It is not only the taste. It is the experience of eating something warm when you're cold.
And I've kind of been waiting for the temperature to drop so I could eat soup. I wasn't impatient for summer to end, but I also didn't have nightmares about winter when I realized I could eat tons of soup :P. And I also can't wait for school to start (this Thursday!). shhh. I'm a nerd, don't tell.
So when the I-can't-use-my-oven heat changed for it-is-chilly-I-need-a-long-sleeve-shirt-this-morning weather, all I could think about was the fact that I could now make soup. And at that same moment, I saw Courtney's minestrone. Perfect!

Main Dish Minestrone
Adaptation of Minestrone Soup, Sweet Tooth Sweet Life
Ingredients:
2 tbsp olive oil
1 yellow onion, chopped
5 cloves garlic, pressed
4 carrots, peeled and chopped
1 bell pepper, seeded and chopped
1 zucchini, halved and sliced
1/2 tbsp dry basil leafs
1 tsp dry oregano leafs
1/4 tsp dry rosemary
1/8 tsp celery seeds
pinch crushed red pepper
2 bay leafs
1 L vegetable broth
3 cups reduced sodium vegetable juice (I used V8)
1 can (28 oz) diced tomatoes (not drained)
1 cup frozen cut green beans
1 cup frozen green peas
1 can (14 oz) navy beans
1 cup uncooked macaroni
Directions: Heat oil in a large pot over medium heat. Add onion and garlic and cook until onion starts to get translucent. Add carrots and cook for 3 more minutes. Add bell pepper and zucchini and cook for 2-3 more minutes. Add all spices and cook for 1 minute.
Add broth, vegetable juice, diced tomatoes, green beans and green peas. Bring to a boil and add beans and macaroni. Cook until pasta is cooked (refer to package directions). Serve with bread.
Serves 6-8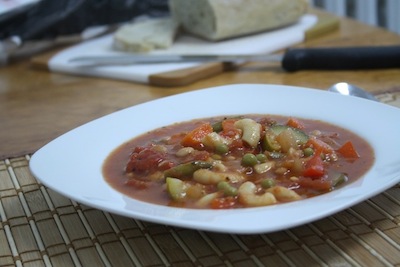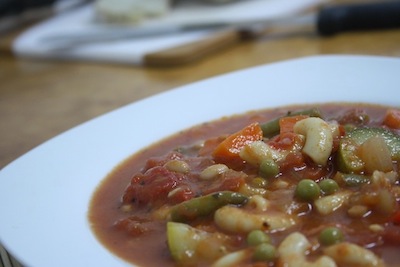 This soup definitely was perfect. It is warm, comforting and (very important) filling. Since I often eat by myself, making appetizer soups is not something I do often. I've never eaten minestrone as a main dish before but I made mine more stew-like, with less broth, and it was perfect. I ate it with my favorite bread, a potato rosemary loaf. If anyone has a great homemade potato bread recipe, go ahead and share! I'd like to try and recreate it at home :).
Rachel won the vote with her Peach Sorbet and chose the Tripe Chocolate Hazelnut Granola as her prize.
Lauren, who made the Cookie Dough Ice Cream Bars, won the drawing and chose the Apple Cinnamon Granola as her prize.
Congratulations to the winners!