Want to know what I love the most about summer?
Sure, there's the sun. The beach. The summery cocktails. The smoothies. The birds singing.
But nothing beats fresh local berries. They taste 1000 times better than imported winter berries. Every summer, I wait until they finally start showing up at the market. And then, I eat berries as a snack. I eat berries for breakfast. I eat berries for dessert. I might turn into a raspberry soon. Yep, they're my favorite!
And then, there's baking with berries. You know, a great way to make sure I eat even more berries. Which can be hard sometimes because I have to not eat the berries before I make the baked good. Which is why I actually don't bake that much with berries :P.
But when I saw Courtney's blueberry muffins, I really, really wanted to make them. Lucky me, I saw them just at the right moment. The day before, I bought an enormous container of blueberries. So big it was impossible to eat it all in one day.
So I made blueberry muffins!

Juicy Blueberry Muffins
Adaptation of "Wouldn't Know They're Healthy" Blueberry Muffins, Sweet Tooth Sweet Life
Ingredients:
1 cup whole wheat pastry flour
1/2 cup unbleached all purpose flour
1/4 cup packed brown sugar
1/4 cup organic cane sugar
1/4 cup wheat germ
1/4 cup rolled oats
1/2 tsp ground cinnamon
1/4 tsp ground nutmeg
1/8 tsp ground cardamom
1 tsp baking powder
1 tsp baking soda
1/4 tsp fine sea salt
1 cup fresh blueberries
3/4 cup unsweetened applesauce
1/2 cup buttermilk
1/2 cup plain Greek yogurt
1 tbsp safflower oil (or canola/vegetable)
1 tsp pure vanilla extract
Directions: Preheat oven to 350°F. Line a 12-cup muffin pan with muffin liners. In a large bowl, stir flours, sugars, wheat germ, oats, spices, baking powder, baking soda and salt. Gently stir in the blueberries.
In a second bowl, whisk applesauce, buttermilk, yogurt, oil and vanilla. Add to dry ingredients and stir until just combined. Spoon into muffin cups, filing all the way to the top. Bake for 20-22 minutes, or until the tops of the muffins spring back when lightly touched.
Makes 12 muffins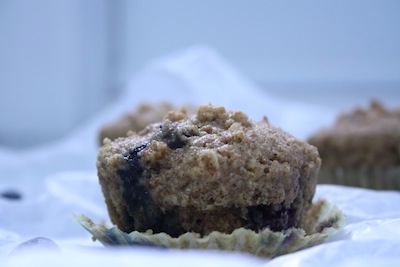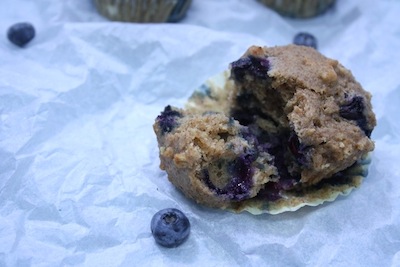 These muffins are fluffy with a crunchy top. You'll never know they're packed with whole wheat flour, wheat germ and oats! I used blueberries that were quite big and I suggest doing the same because it makes extra-juicy bites!