There is something about pasta.
It is good. Comforting. And you could eat it everyday, but still never eat the same thing.
Because there are tons of types of pasta.
And tons of sauces and stuffing to serves them with.
Let's just say that if you made me eat pasta everyday for the rest of my life, I wouldn't complain.
This is probably why I often look more at the pasta sections of my cookbooks. And why the first recipe I made when I bought the Vegan Yum Yum cookbook was a pasta dish.
When I saw the recipe, I loved the idea of using mainly grape tomatoes to make the sauce. Because they are delicious. And they're in season, so they're even better :)!

Spicy Grape Tomato Rigatoni
Adaptation of Rigatoni with Fresh Grape Tomato Sauce, Vegan Yum Yum cookbook
Ingredients:
3 cups rigatoni
3-4 tbsp olive oil
4 cloves garlic, pressed
1/2 tsp dried oregano
1/2 tsp dried basil
1/2 tsp dried marjoram
pinch dried rosemary
2 pints sweet grape tomatoes
1/2 tsp red pepper flakes (optional)
3/4 tsp salt
1/2 tsp balsamic vinegar
Freshly ground black pepper
Directions: Bring a large pot of water to a boil and cook pasta according to package directions.
Meanwhile, heat oil in a large saucepan. add the garlic and herbs and cook for 1-2 minutes. Add the tomatoes and toss until well coated with oil. Add optional red pepper flakes and salt and stir. Cook for about 15 minutes, until the tomatoes are fully cooked and the sauce is thick. If some tomatoes are not burst after 10 minutes, you can gently press on them.
When the rigatoni is ready, stir balsamic vinegar in the sauce. Then, add rigatoni and toss well. Serves garnished with black pepper to taste.
Serves 2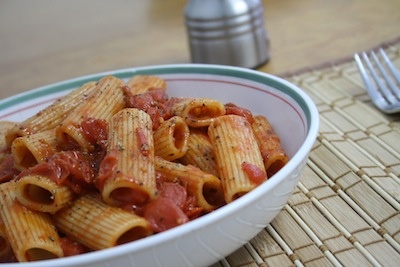 This sauce was easy and so, so good. It is really spicy, but you can skip the red pepper flakes if you prefer. It is definitely something I'll make again when I need a quick meal since the sauce is ready in less time than it takes to bring the water to a boil and cook the rigatoni!