Every time I make kale chips, I think that I don't make them often enough; it is so easy to make, and such a great snack! I usually make more of a cheesy flavour, but wanted to experiment with some other flavours. I first made these amazing thai ginger kale chips from Meghan Telper, which are a bit sweet, and have a delicious ginger flavor (if you don't use honey, maple syrup or coconut nectar are great alternatives for these).
Trying to find some other flavours I could experiment with, I thought of the various creamy salad dressings I like and decided to make lemon tahini kale chips, which were quite amazing too!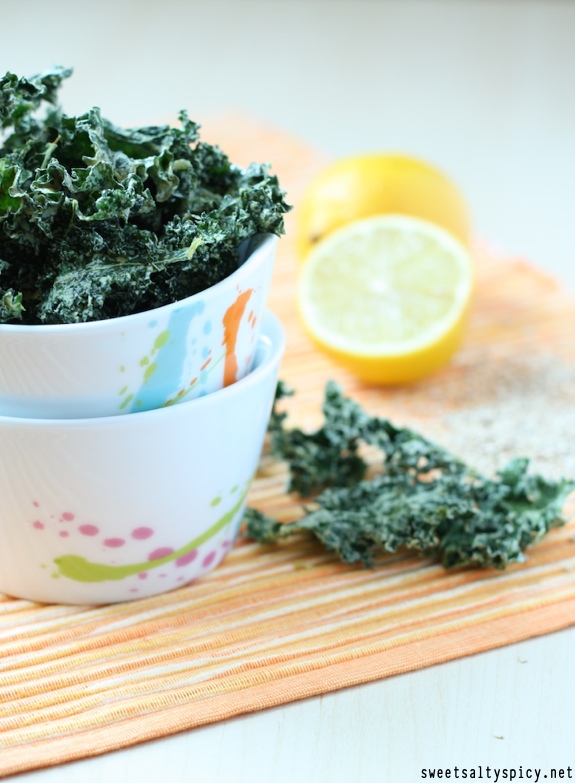 These kale chips are the perfect crunchy, flavourful snack, with a perfect ratio of earthiness from the tahini and sourness from the lemon. A bit of nutritional yeast adds some depth to the flavour without making the kale chips taste cheesy and a bit of garlic brings it all together.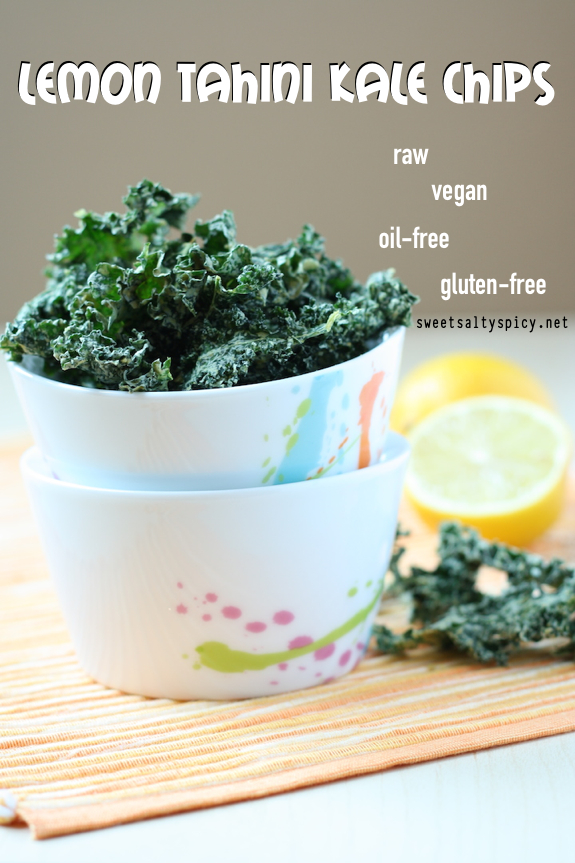 Lemon Tahini Kale Chips
2015-07-15 14:05:11
Serves 6
raw, vegan, oil-free, gluten-free, soy-free, nut-free
Ingredients
1 bunch curly kale
2 tbsp tahini
2 tbsp lemon juice (1 lemon)
1 1/2 tbsp nutritional yeast
1/4 tsp garlic powder
1 tbsp water
pinch of sea salt
Instructions
Remove the stems from the kale and tear into 2-3 inch pieces.
Put all the remaining ingredients in a blender and process until smooth.
Lay out on dehydrator sheets.
Dehydrate at 135°F for one hour, then at 115°F for 8 hours, or until crispy.
Notes
If you have a dehydrator without heat settings, simply dehydrate until crispy (it may take up to 12 hours).
Sweet Salty Spicy http://sweetsaltyspicy.net/