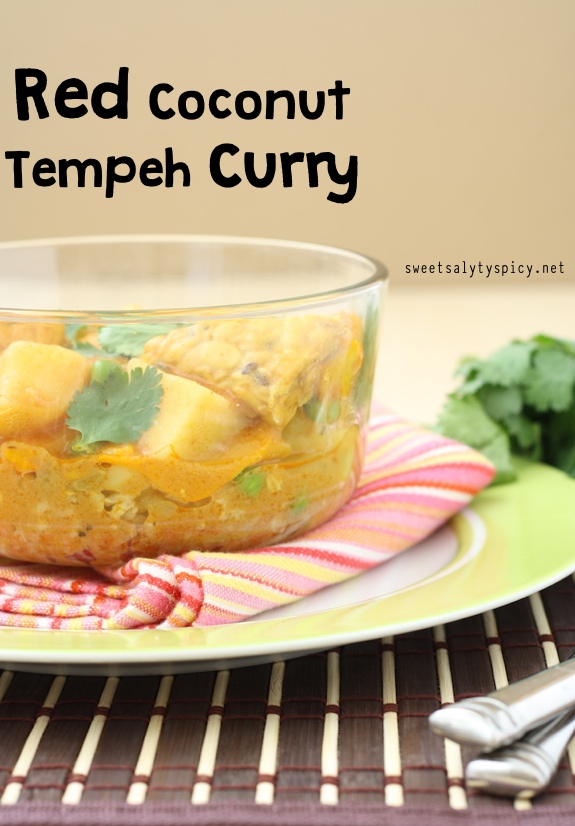 I love tempeh, but struggle to find ways to cook with it. Although I love it in restaurants, I rarely find it amazing when I make it myself.
Until I made this curry.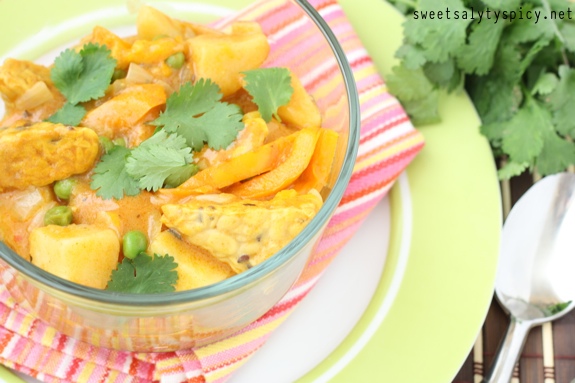 I was craving tempeh and had a red curry on my to-do list, so I decided to go ahead and use tempeh in my curry.
I am glad I did, because I finally have a favorite recipe with tempeh. It is a little spicy, creamy and sweet. It was so good, I made it again the next week and doubled the recipe because I didn't have enough the first time! It is even better the next day, so it makes perfect leftovers too!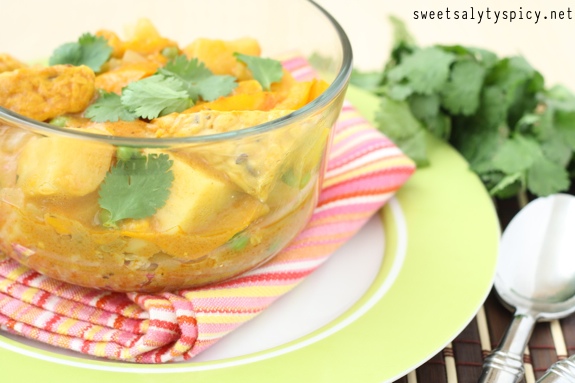 Red Coconut Tempeh Curry
2015-02-12 16:31:57
Serves 3
vegan, gluten-free, oil-free
Ingredients
1 package (240 g) tempeh - thaw if frozen
1 tsp ground turmeric
1 tsp coconut sugar
pinch of salt
1 yellow onion, chopped
1 orange, yellow or red bell pepper, seeded and sliced
2 potatoes, peeled and diced
1 can (400 ml) full-fat coconut milk
1/2 cup vegetable broth
2 tbsp red curry paste
1/4 tsp dried basil
pinch red pepper flakes
3/4 cup frozen green peas
1 tbsp arrowroot starch
cilantro for garnish (optional)
Instructions
Cut the tempeh into bite-sized pieces or a bit bigger.
In a medium saucepan, add 2 cups of water, turmeric, coconut sugar and pinch of salt. Bring to a boil. Add tempeh, cover, reduce heat to low and let simmer for 15 minutes. Meanwhile, prepare remaining ingredients.
After 15 minutes, strain the tempeh. In a large pot, add a couple tbsp of water or vegetable broth and heat over medium heat. Add the chopped onion and cook until it starts to get translucent. Add the bell pepper and cook for 1 more minute. Add potatoes, tempeh and coconut milk.
In a measuring cup, whisk the red curry paste in the vegetable broth. Add the mixture to the pot, then add red pepper flakes and basil.
Bring to a boil, cover, reduce heat to low and let cook for 20 minutes, or until potatoes are soft.
Add frozen green peas. Mix arrowroot starch with 1 tbsp of water and add to the pot. Bring back to a boil, reduce heat and simmer uncovered for 5 more minutes.
Serve over your favorite grain (I used brown rice) garnished with cilantro.
Sweet Salty Spicy http://sweetsaltyspicy.net/