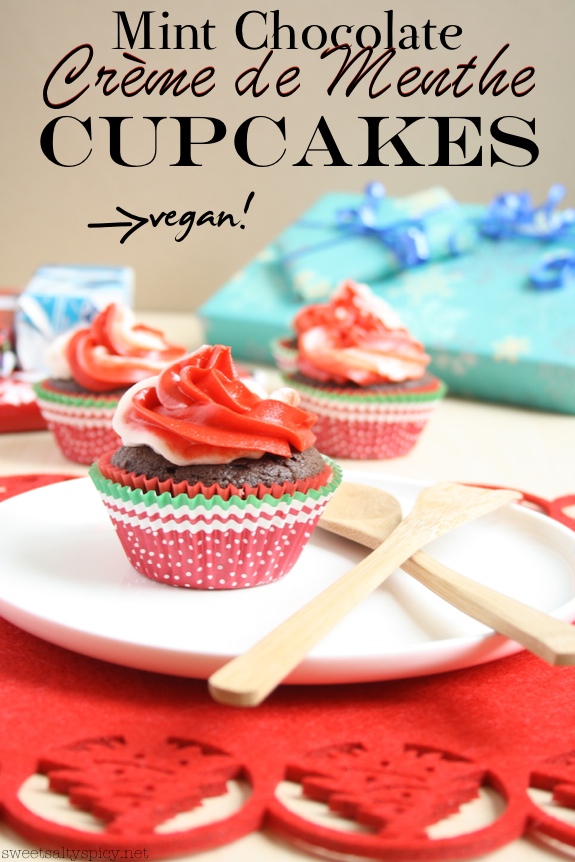 Don't know what dessert to make for a christmas party?
How about some candy-cane-inspired mint chocolate cupcakes with booze in them?!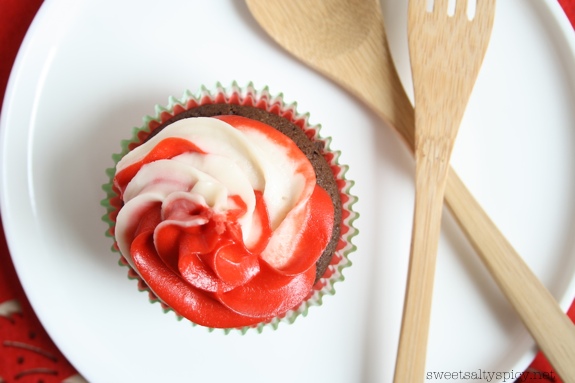 I planned these cupcakes months ago when a potluck was announced for this week. I first planned on making candy cane cupcakes. Because everything is better with chocolate, they became candy cane chocolate cupcakes, which is really just a christmasy synonym for mint chocolate cupcakes. Last minute, I decided to use some crème de menthe in the cupcakes instead of peppermint extract, which is just so much cooler (and the flavour ended up being better too).
I also decided to call them mint chocolate cupcakes instead of candy cane cupcakes because really, if you don't make white and red frosting, they are appropriate any time of the year! But they really are super cute and festive with the christmas frosting and cupcakes liners (in my opinion). The cupcakes have a chocolaty flavour at first and then a mint aftertaste, and both flavours are delicate, complementing each other perfectly.
Ready to bake?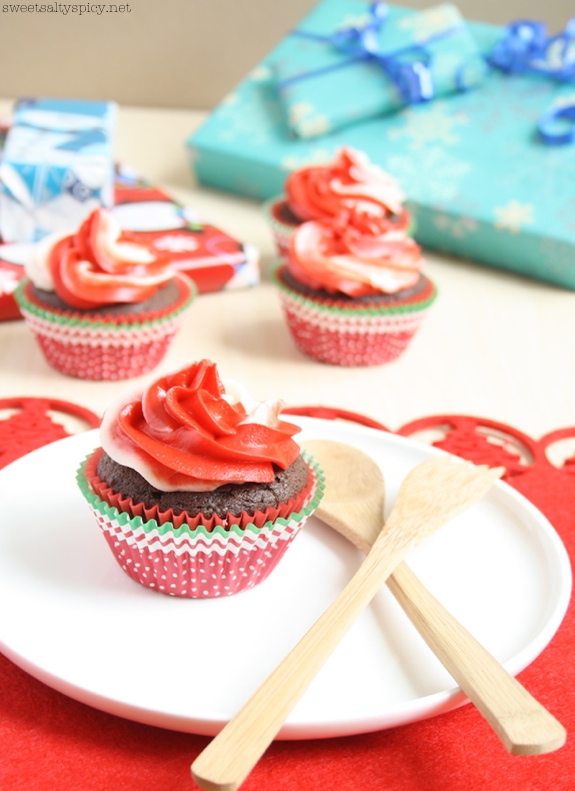 Mint Chocolate Creme de Menthe Cupcakes
2014-12-15 16:52:20
vegan; use appropriate non-dairy milk for soy-free option and nut-free option
Ingredients
1 1/2 cups unbleached all purpose flour
1/3 cup cocoa powder, sifted
1 tsp baking powder
3/4 tsp fine sea salt
2/3 cup unsweetened non-dairy milk (I used plain almond)
1/3 cup crème de menthe
2/3 cup golden cane sugar
1/3 cup coconut oil, melted
1/2 tbsp apple cider vinegar
1/2 tsp pure vanilla extract
For the frosting
1/2 cup Earth Balance buttery spread
3 tbsp crème de menthe
1/4 tsp pure vanilla extract
3 cups icing sugar
Instructions
Preheat oven to 350°F and line a muffin pan with cupcake liners.
In a medium bowl, mix flour, cocoa powder, baking soda and salt.
With an electric mixer, beat non-dairy milk, crème de menthe, melted coconut oil, sugar, apple cider vinegar and vanilla extract. Beat on medium speed for 1 minute.
Add the dry ingredients to the liquid mixture in batches and beat until all the clumps are gone.
Spoon the batter in the prepared muffin pan, about 2/3 full for each.
Bake for 25-30 minutes or until the cupcakes slowly spring back when pressed with a finger.
Transfer to a cooling rack. Allow to cool completely before frosting.
For the frosting, beat the Earth Balance with an electric mixer.
Mix in crème de menthe and vanilla extract.
Gradually add the icing sugar (1/2 to 1 cup at a time) and mix until fully combined. Add some non-dairy milk if the icing becomes too dense.
Continue mixing for 5 to 10 minutes until fluffy.
Notes
I added red gel food colouring to half the batter and used a 1M tip to pipe the frosting.
Adapted from Grand Marnier Orange-Chocolate Cupcakes
Sweet Salty Spicy http://sweetsaltyspicy.net/