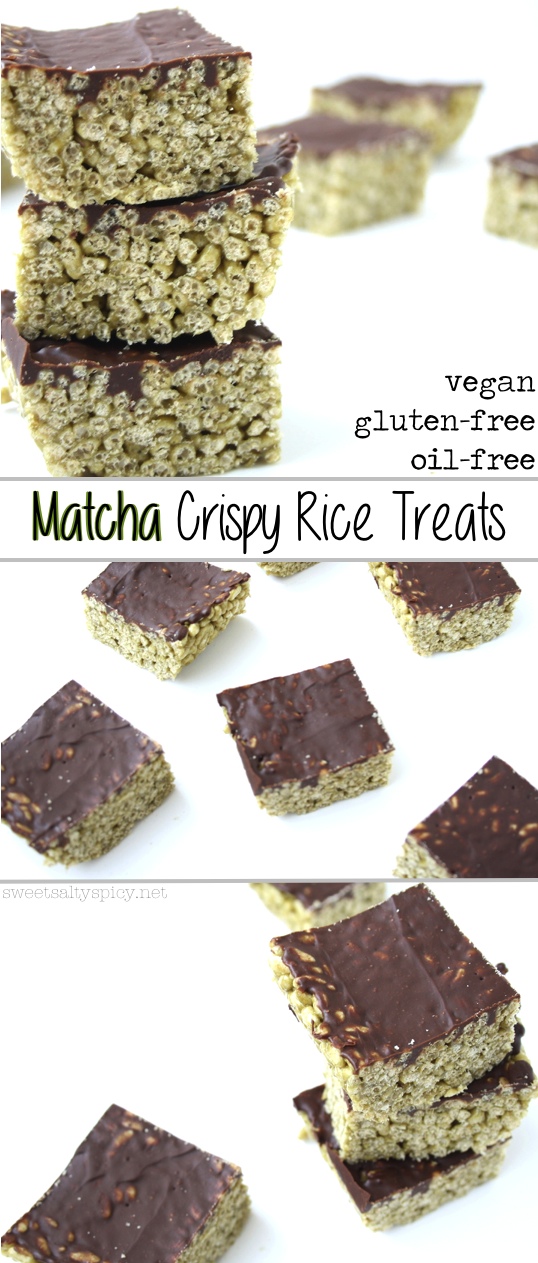 I always loved rice crispy treats, but haven't eaten any for years, and never tried vegan ones. While in Vancouver last summer, I saw some matcha rice crispy treats in a coffee shop. Although I didn't buy one, I loved the idea (I love matcha!) and planned on making some.
They turned out wonderful: the earthiness and slight bitterness of the matcha gives a nice flavour (and color!), but is cut down by the other ingredients. If you don't like straight matcha but like it in lattes, you will definitely love these treats. The cashew butter also gives a subtle nutty flavour that complements the matcha really well.
If you want a regular rice crispy treat, but vegan, you can also make these without the matcha and chocolate topping. I tried it and the taste is really similar to marshmallow rice crispy treats, only a little less sweet.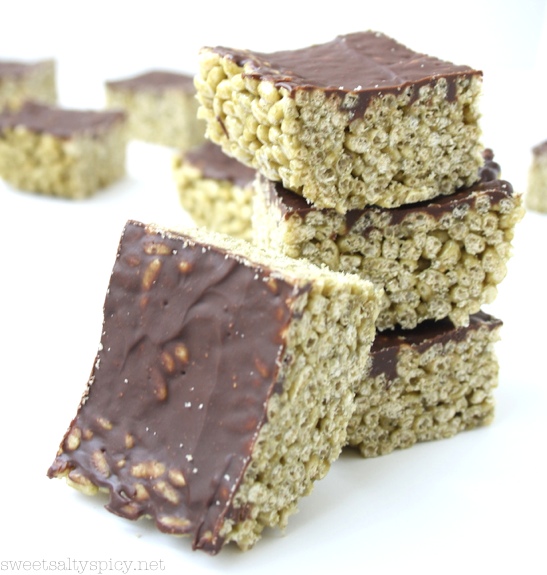 Matcha Crispy Rice Treats
2014-12-01 15:39:57
vegan, gluten-free, oil-free, soy-free
Ingredients
4 cups brown rice crisp cereal (not puffed rice!)
1/2 cup brown rice syrup
1/3 cup smooth cashew butter
1 tsp vanilla extract
3 tsp matcha powder
For the chocolate topping
1/3 cup chocolate chips
1 tbsp cashew butter
Instructions
Line an 8x8-inch baking dish with parchment paper (one in each direction, with a few inches of overhang off the sides). Put rice cereal in a large bowl.
Add brown rice syrup and cashew butter to a small saucepan over medium-low heat. Stir with a spatula until well combined. Stir in the vanilla extract. Sift in the matcha powder (sifting avoids clumps). Stir with the spatula until well combined.
Pour the mixture on the rice cereal and stir until thoroughly combined and all the cereal is coated.
Transfer the mixture to your prepared dish and spread evenly. Press down very firmly using your spatula. Put in the freezer while you prepare the chocolate topping.
To prepare the chocolate topping, add chocolate chips and cashew butter to a double-boiler (or use a small bowl over a small saucepan with an inch of boiling water). Heat, stirring with a spatula, until melted and well combined. Remove dish from freezer and spread the chocolate mixture on top. Put back in the freezer for 15 minutes.
Lift from the dish using the parchment paper. Slice into squares.
Notes
Brown rice syrup is very thick and sticky, acting as the binding agent in this recipe. I don't recommend substituting with a different liquid sweetener.
Bars hold their shape at room temperature, but you can keep in the fridge for at least a week.
Skip the matcha and chocolate topping for plain vegan rice crispy treats!
Sweet Salty Spicy http://sweetsaltyspicy.net/