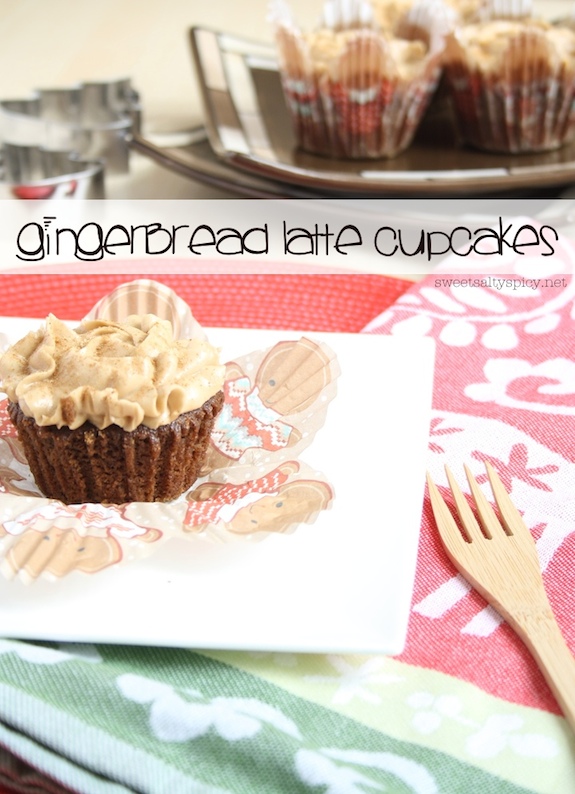 During my bachelor degree, I always went to Starbucks and remember I loved the gingerbread latte in the wintertime. I also made some at home, which were healthier and definitely had less sugar. I love gingerbread spices with the molasses, but coffee just brings it to the next level.
This year, although I didn't have gingerbread lattes at Starbucks, I had something even better: these cupcakes.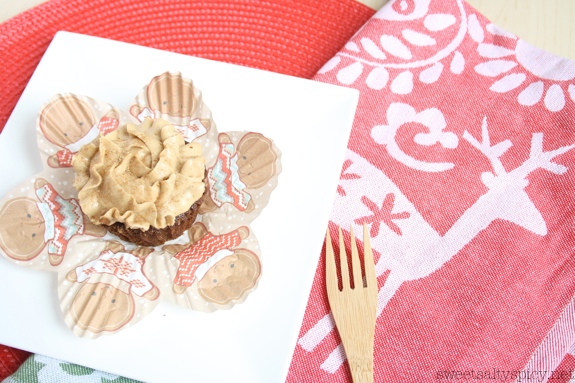 When faced with the task of making christmas cupcakes, I found those super cute gingerbread men liners that you can see in the pictures. Of course, I couldn't make an other flavour than gingerbread with those liners! However, I made regular gingerbread cupcakes last year and wanted to create a new recipe. Finally, it just came to me: I would make one of my favourite coffee drinks into a cupcake!
The result is fantastic! It really does taste like a delicious gingerbread-flavored coffee. Because the spices and molasses do have a strong taste, make sure you use a very strong-tasting coffee for this. I went to my favorite third-wave coffee shop and asked them for a couple shots of espresso made with their strongest-tasting coffee beans. It tasted so strong I couldn't even take a sip, but the result is perfect once baked in the spicy cupcakes.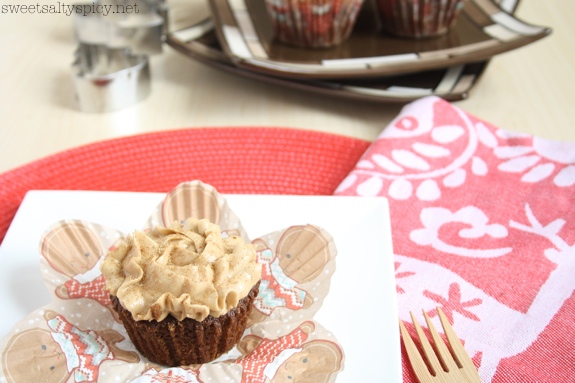 Gingerbread Latte Cupcakes
2014-12-23 13:21:27
vegan; choose appropriate non-dairy milk for soy-free and nut-free options
Ingredients
1 1/4 cups unbleached all-purpose flour
1 tsp baking powder
1/2 tsp baking soda
2 tbsp golden cane sugar
3 tsp ground ginger
1 1/2 tsp ground cinnamon
1/2 tsp grated nutmeg
1/8 tsp ground cloves
1/4 tsp fine sea salt
1/2 cup coconut oil, melted
1/2 cup maple syrup
1 tbsp blackstrap molasses
1/3 cup very strong-tasting espresso
1/4 cup unsweetened non-dairy milk (I used plain almond)
1 tsp pure vanilla extract
Frosting
1/2 cup earth balance buttery spread, softened
2 tbsp very strong-tasting espresso
1 tsp pure vanilla extract
3 cups icing sugar
Instructions
Preheat oven to 350°F. Line a muffin pan with cupcake liners.
In a bowl, mix flour, baking powder, baking soda, sugar, spices and salt.
In a second bowl, whisk oil, maple syrup, molasses, coffee, milk and vanilla. Add the dry ingredients and mix until smooth.
Fill cupcake liners 2/3 full. Bake for 25-30 minutes, or until a toothpick comes out clean. Transfer to a cooling rack and let cool completely before frosting.
To make the frosting, beat the earth balance with a hand mixer. Beat in the coffee and vanilla extract. Add the icing sugar 1/2 cup at a time. Continue mixing for 5 minutes, until fluffy.
Notes
I used a 1M decorating tip and pipped the frosting starting from the center, then sprinkled with cinnamon, ginger and coconut sugar.
Adapted from Vegan Cupcakes Take Over the World
Sweet Salty Spicy http://sweetsaltyspicy.net/