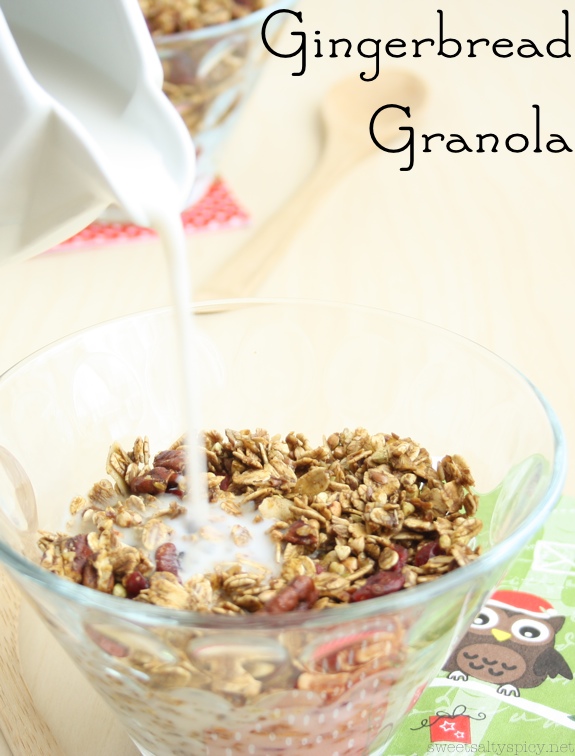 Christmas is in a few weeks. What does that mean? One of my favorite flavours is in season! Yep, gingerbread! Because I love gingerbread and also love making granola, a gingerbread granola had to be made at some point.
This granola has a deep gingerbread flavour thanks to blackstrap molasses and delicious spices. It will also make your house smell a-m-a-z-i-n-g. The dried cranberries add a bit of festive color and their tart flavour is great with the sweet & spicy granola. It might be my favorite granola, although I think I say this every time I make granola…
It is also packed with tons of healthy ingredients! Let's look at some of them:
Although delicious in a parfait, my favorite way to eat this granola is the easy, simple way: with some almond milk! Make it as a treat for yourself, or put it in mason jars to give as a homemade Christmas or hostess gift for the Holidays.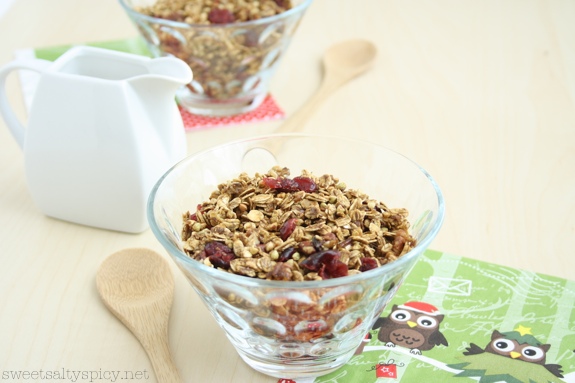 Gingerbread Granola
2014-12-08 14:11:39
Serves 8
vegan, gluten-free, oil-free, soy-free
Ingredients
3 cups rolled oats
1 cup raw buckwheat groats
1/2 cup pecans, coarsely chopped
1/4 cup sliced almonds
2 tbsp flax seeds, grounded
1/2 tsp fine sea salt
1 tsp ground ginger
1 tsp ground cinnamon
1/2 tsp grated nutmeg
1/4 tsp ground cloves
1/2 cup maple syrup
3 tbsp blackstrap molasses
1/2 tsp pure vanilla extract
1 cup dried cranberries
Instructions
Line a baking sheet with parchment paper and preheat oven to 325°F.
In a large bowl, mix oats, buckwheat, pecans, almonds, ground flax seeds, salt, ginger, cinnamon, nutmeg and cloves.
In a small bowl, whisk together maple syrup, molasses and vanilla. Pour on dry ingredients and mix until well coated.
Spread the mixture on your baking sheet.
Bake at 325°F for 15 minutes. Take out of the oven, reduce heat to 300°F, stir the granola on the baking sheet and bake for 10 additional minutes.
Let the granola cool on the baking sheet. It will be soft when you take it out of the oven, but it will get crisp while cooling.
When completely cooled, transfer to a large bowl and stir in dried cranberries.
Store in an airtight container.
Sweet Salty Spicy http://sweetsaltyspicy.net/