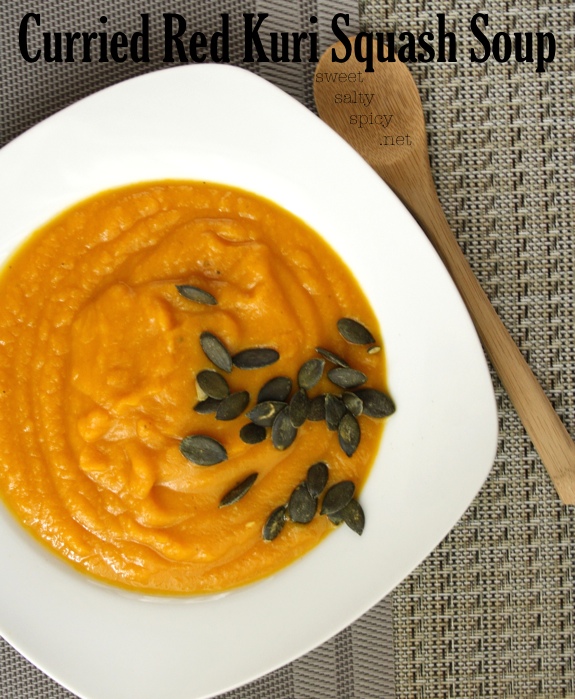 I got a beautiful red kuri squash in my organic food basket a couple weeks ago. I never had this squash before. I love all squashes and this one is definitely a keeper, with a deep orange flesh and slightly nutty flavour.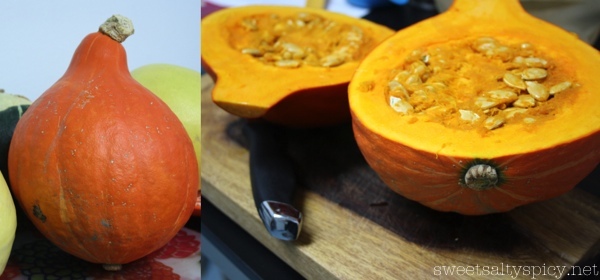 I decided to make a creamy soup with my beautiful squash. I wanted to add some garam masala at first, but I finally opted for a coriander-based curry powder (instead of the more traditional turmeric-based curry powder). It was a great choice as the coriander-based powder gave some flavour and subtle spiciness. I think garam masala would have ended up being the predominant flavour, but the powder I used complements the squash, making its creamy, nutty flavour really shine!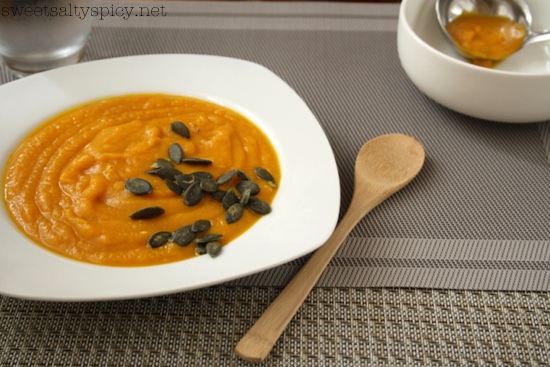 Curried Red Kuri Squash Soup
2014-11-04 15:06:16
Serves 6
vegan, gluten-free, oil-free, nut-free, soy-free
Ingredients
1 yellow onion, coarsely chopped
2 cloves garlic, minced or pressed
1 tbsp balti curry powder (see note)
1 red kuri squash, skin removed, chopped in 1 to 1 1/2 inch cubes (9 cups chopped)
2 apples, peeled and coarsely chopped
1 cup vegetable broth
4 cups water
Instructions
Add 2-3 tbsp water, onion and garlic to a big pot and place over medium heat. Cook until the onions get translucent.
Add the curry powder and cook, stirring, for 30 seconds.
Add the apples, squash, broth and water and bring to a boil.
Reduce heat to low, cover and simmer for 45 minutes.
Using an immersion blender, puree the soup until smooth. If using a regular blender, let cool a little before processing.
Notes
Balti curry powder has coriander (and not turmeric) as the first ingredient. As such, it will tend to be greener and not orange like garam masala. I bought mine at Whole Foods. You can also make your own; just google it, there are tons of recipes!
Sweet Salty Spicy http://sweetsaltyspicy.net/