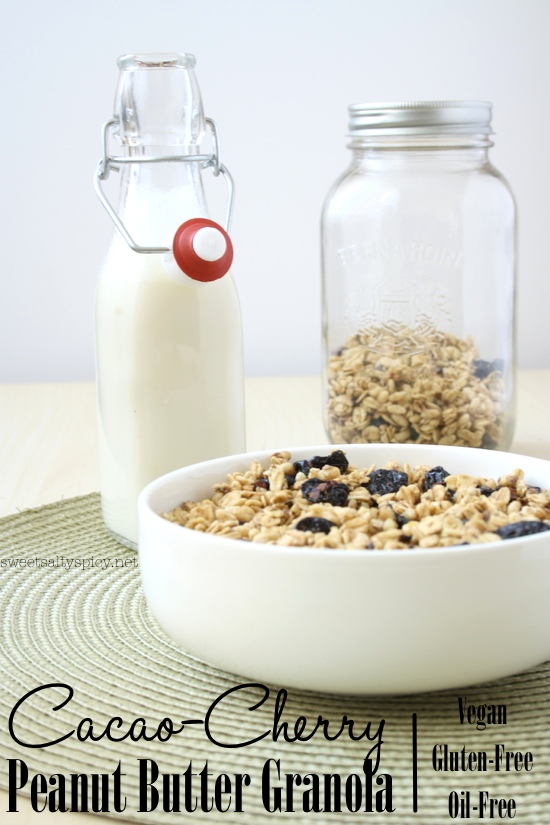 I always have some homemade granola in my cupboards. It is so easy to make, and I find it way better than the store-bought kind. The best part of making your own granola: you can definitely make flavours you would never find in a grocery store! While sometimes I go back to my previous recipes, I always love making a new granola flavour.
When I made this granola, I had some dried cherries I wanted to use up. I previously bought those cherries to make my favorite Glo Bar from when Angela (Oh She Glows) sold them. It was a peanut butter & jelly flavour, with dried cherries as the "jam" flavour and with some delicious cacao nibs added to the mix. I adapted the glo bar recipe from Angela's cookbook and got my favorite bar back! So when I needed some granola, I decided to make a granola version of my favorite bar and it definitely was a winner too!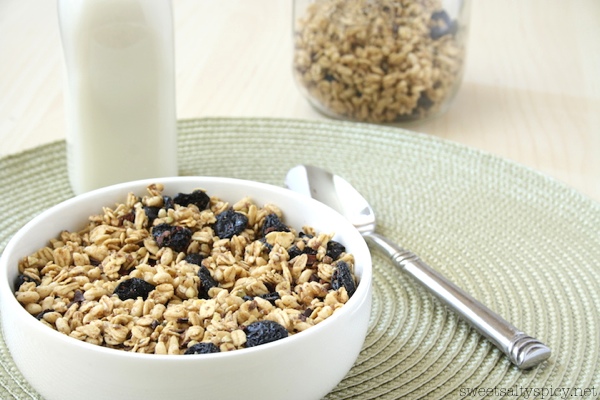 Cacao-Cherry Peanut Butter Granola
2014-11-06 22:30:00
vegan, gluten-free, oil-free, soy-free
Dry ingredients
2 cups rolled oats
2 tbsp flax seeds, grounded
1 tbsp hemp seeds
1/2 cup brown rice crisp cereal
1/2 cup raw buckwheat groats
Wet ingredients
3 tbsp natural smooth peanut butter
1/2 cup maple syrup
1/2 tsp pure vanilla extract
1/8 tsp fine sea salt (skip if your peanut butter is salted)
Add-ins
3/4 cup dried tart cherries
1/4 cup cacao nibs
Instructions
Preheat oven to 325°F and line a baking sheet with parchment paper.
In a large bowl, mix all the dry ingredients together.
In a small saucepan, whisk peanut butter and maple syrup. Place over medium heat and stir continuously until peanut butter is softened and ingredients are combined.
Stir in vanilla and sea salt.
Pour wet ingredients on dry ingredients and stir until well coated.
Spread on the baking sheet. Bake for 20 minutes, stirring after 10, then let cool on the baking sheet.
Transfer to a bowl and stir in add-ins.
Notes
Makes 5 1/2 cups
Store in an air-tight container
Sweet Salty Spicy http://sweetsaltyspicy.net/