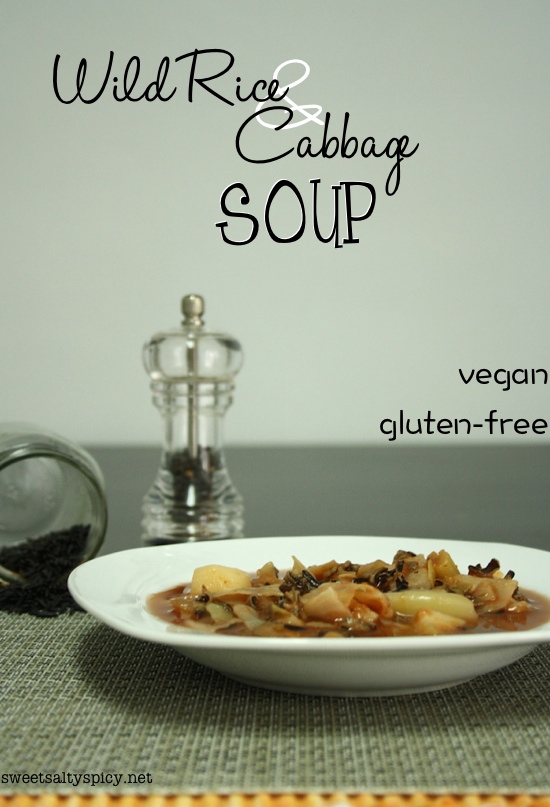 Fall weather pointed its nose in September. While I enjoy summer, colder weather makes me happy because I then have to eat tons of soups and stews and I loooove soups and stews! They are so comforting after being out in the cold. We've also been having a lot of ups and downs in temperature this year; it actually feels like there are 10 seasons now sometimes. So the weather got warm again two weeks ago and it dropped suddenly this weekend, my gloves making their appearance this week. But what does this mean except for the fact that I can wear my favorite fall coat? Soup again!
I really love cabbage soup and this one was no exception. It has potatoes (which are perfect in any dish and a necessity in any cabbage soup) and the addition of wild rice makes it possible to have it as a meal if you want to, but a small portion could serve as an appetizer. I had about 1 cup of soup as appetizers and 2 1/2 to 3 cups as a meal. The broth is sweet and spicy at the same time, with crushed tomatoes, thyme, bay leafs and a pinch of allspice. The flavours complement each other very well and nothing stands out or overpowers the dish. Although it makes quite a lot of soup (16 cups! more than that and my biggest pot would have overflowed), I didn't even have to freeze any since I went through the whole thing by myself in a week.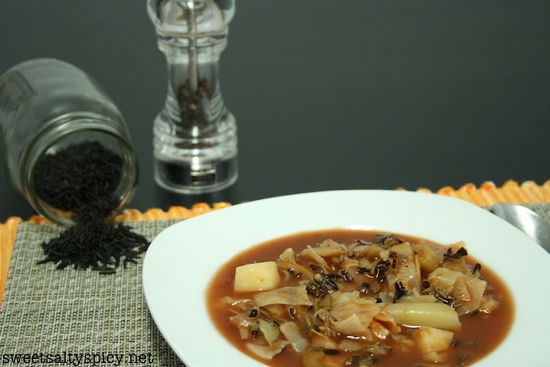 Wild Rice & Cabbage Soup
2014-10-22 20:12:15
vegan, gluten-free, oil-free, nut-free, soy-free
Ingredients
1 yellow onion, chopped
1 garlic clove, minced or pressed
1 cup chopped celery
1 big green cabbage, chopped
3 potatoes, peeled and cubed (I used red potatoes)
1 cup vegetable broth
7 cups water
1 can (28oz) crushed tomatoes
3/4 cup wild rice
1 tsp golden cane sugar
1 1/2 tsp dried thyme
2 bay leafs
pinch of allspice
salt, pepper to taste
Instructions
Add 2-3 tbsp of water with onion, garlic and celery to a 6-quart pot over medium heat. Cook until onion gets translucent.
Add all the other ingredients to the pot. Bring to a boil, stir, cover, reduce heat to low and simmer for 45 minutes.
Notes
As with most soup recipes, this soup is even better the next day!
Adapted from Happy Herbivore Light & Lean
Sweet Salty Spicy http://sweetsaltyspicy.net/