It's been quite a while since I posted! I actually have a pile of recipes getting bigger and bigger that I really want to post! And I'll start to do so next week :).
I had a long and extremely demanding semester at school that made it hard to keep on blogging. At the same time, I was trying to find a way to update my design because I was tired of seeing this cupcake header!
I finally has the idea of using apple this week, after buying a big bag of delicious pink lady apples (my favorite!). I wanted to use something fresh and healthy because, although I do eat and make treats, I still eat mostly fresh and healthy meals and snacks. Nothing better than a crunchy apple ;). I also wanted to make the content column larger so I could use bigger pictures. Out with the old, in with the new!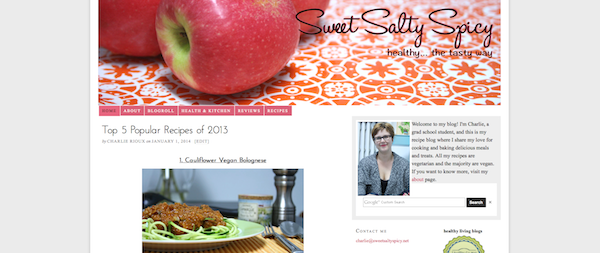 With two big design updates since I began this blog, all of my posts are not formatted anymore. So I'll have to go through every single post and page (over 300!) to reformat everything, and I also want to index with new keywords. This is going to be a long process but I do believe it will be worth it!
See you next week with a new recipe :).