I love making banana bread. It is so easy to make and delicious, and you can change your add ins to make any flavor you want.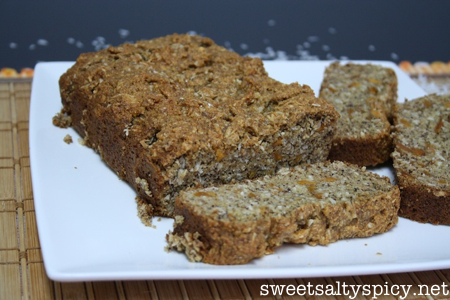 One time I decided to add some dried mango and it was so delicious, I had to make it into a real recipe. It was on my to-do recipe list for a while and when a potluck meeting came up, I decided it was time to try out a mango banana bread again. Since mango and coconut are a perfect match, I decided to make a mango and coconut bread and everyone loved it!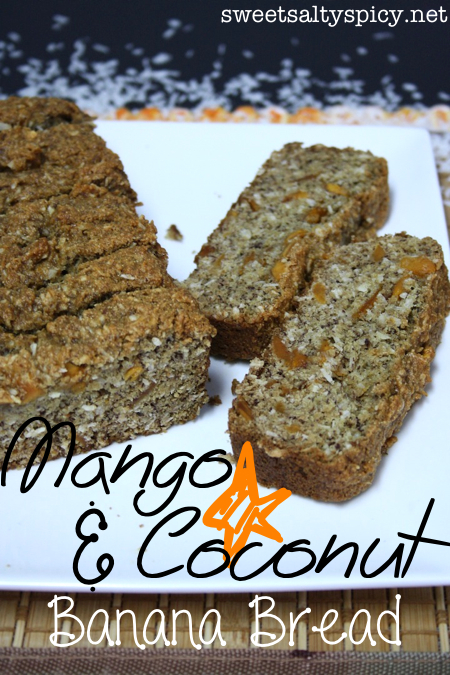 Mango & Coconut Banana Bread
Adaptation of Moist Banana Bread
Ingredients:
1 1/3 cup whole wheat flour
3/4 cup golden cane sugar
2 tsp baking powder
1 tsp baking soda
1/2 tsp fine sea salt
3 medium very ripe bananas
1 Flax egg: grind 1 tbsp flax seed, mix it with 3 tbsp water and set aside until gelatinous
3/4 cup shredded unsweetened coconut
1/2 cup chopped dried mango (ideally no sugar or sulphites added)
Directions: Preheat oven to 350°F. Grease a large bread pan and then line it with parchment paper so you can easily pull out the loaf when cooled.
In a large bowl, whisk the flour, sugar, baking powder, baking soda and salt. In a small bowl, mash the bananas with a fork. Add the flax egg and mix. Add the banana and flax egg mixture to the dry ingredients and mix with a spoon until well incorporated. Mix in the coconut and mango.
Pour the dough in the bread pan. Bake for 1 hour, until golden brown and a toothpick comes out clean.
Makes 1 bread.