I bought matcha more than a year ago with the main goal of baking with it. The stuff is expensive, and pretty much every time I had an idea for something I could make with it I would not do it because my idea wasn't amazing enough to waste my matcha on it.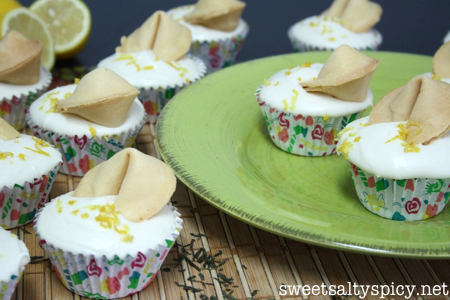 I had to make two batches of cupcakes this week and was trying to find ideas. I finally decided that one of them should involve my unused matcha powder (I will share the other one soon!). Looking back at my other cupcake recipes, I found my delicious lemon cupcakes and decided to make it into green tea lemon cupcakes. Since lemon in green tea is delicious, that should be too! I decided to add some honey to a cream cheese frosting… because honey is also delicious in green tea!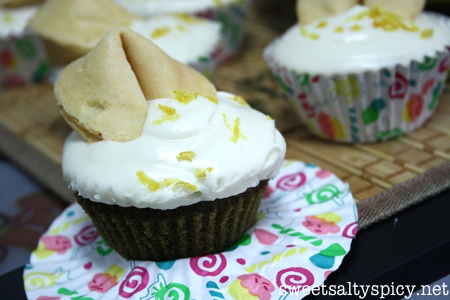 The cupcakes were delicious! I knew they would be good, but I didn't think they would be that good. Everyone who tasted them were unsure about the green tea part and were pleasantly surprised.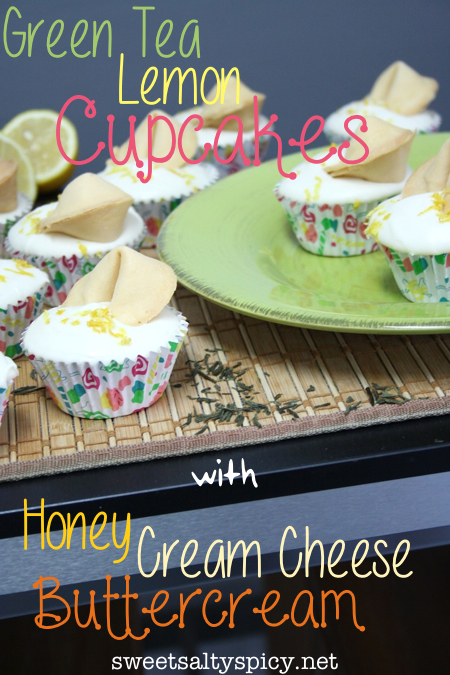 Green Tea Lemon Cupcakes with Honey Cream Cheese Buttercream
Adaptation of Lemon Cupcakes with Cream Cheese Frosting
Ingredients:
1 cup milk (I used unsweetened almond)
1 tsp apple cider vinegar
1 1/4 cups unbleached all purpose flour
2 tbsp cornstarch
3/4 tsp baking powder
1/2 tsp baking soda
1/2 tsp fine sea salt
3 tsp matcha
1/3 cup canola oil
3/4 cup cane sugar
Finely grated zest of one meyer lemon
1 tsp pure lemon extract
1/2 tsp pure vanilla extract
1/8 tsp pure almond extract
Frosting:
1/2 cup earth balance (or butter), softened
1/2 cup vegan (or regular) cream cheese, softened
1 tbsp non-dairy milk
1/3 cup raw honey
1/2 tsp pure vanilla extract
3 1/2 cups icing sugar
Toppings (optional):
12 fortune cookies
Zest of one lemon
Directions:
Preheat oven to 350°F and line a muffin pan with cupcake liners. Whisk the milk and apple cider vinegar in a measuring cup and set aside to get curdled.
In a small/medium bowl, whisk the flour, cornstarch, baking powder, baking soda, salt and matcha. In a second bowl, beat the milk mixture, oil, sugar, lemon zest and extracts with a hand mixer. Add the dry ingredients and mix until no large clumps remain.
Fill cupcake liners 2/3 full and bake about 25 minutes, until cupcakes spring back when pressed with a finger. Transfer to a cooling rack and let cool completely before frosting.
To make the frosting, beat the butter and the cream cheese until combined. Beat in the milk, honey and vanilla. Add the icing sugar in 1/2 cup batches. When all the icing sugar is added, mix for 5 more minutes. Spread icing with cupcakes. Add fortune cookies and lemon zest if desired.
Makes 12 cupcakes