I love cheap activities. And one fun activity to do in the summer are picnics! I love eating outside and then lying down to enjoy the sun. Sandwiches are fun, but I like salads more, which is also the case for everyday lunches.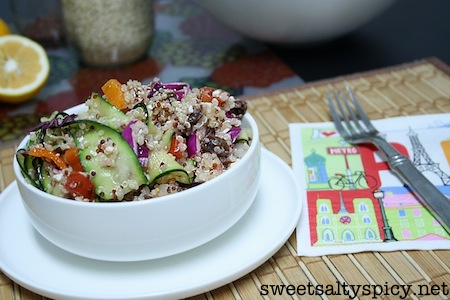 So last week I was making salad for a picnic and wanted to use up my vegetables. I love creating recipes according to what I have left in my kitchen… I usually get more creative!
I decided to make a quinoa salad, chopped up some veggies and made zucchini ribbons… because zucchini ribbons are just so pretty. Since I didn't want a heavy, overpowering dressing, I made one using mainly lemon juice, which gives it a nice refreshing taste.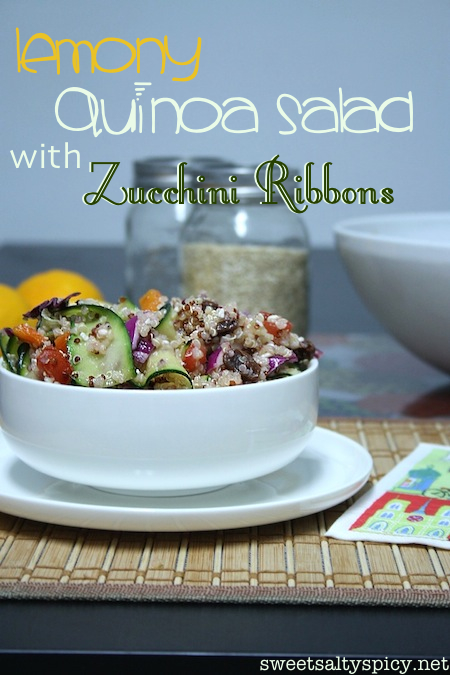 Lemony Quinoa Salad with Zucchini Ribbons
Ingredients:
 1/2 cup quinoa
1 cipollini onion, chopped
1/2 tsp sriracha sauce
1 zucchini
Sea salt
1/2 cup chopped red cabbage
1 cup chopped tomato
1/2 cup chopped sweet pepper
1/4 cup crumbled feta cheese
1/4 cup raisins
Juice of 1 lemon
1 tbsp extra virgin olive oil
1/2 tbsp raw honey
Directions: Rinse quinoa. Add to a saucepan with 3/4 cup water, the chopped onion and sriracha and bring to a boil. Redude heat to low, cover and let cook 12 minutes. Remove from heat and let stand 5 minutes. Transfer to a bowl to cool.
Meanwhile, cut both ends of the zucchini. Using a vegetable peeler, slice zucchini lengthwise to make the ribbons. You can also use a mandoline if you have one. Put zucchini in a strainer and sprinkle with fine sea salt. Toss with hands and let zucchini drain for 15 minutes, then pat dry.
When the quinoa is cooled, mix it with the red cabbage, tomato, sweet pepper, feta and raisins. In a small bowl, whisk lemon juice, olive oil and honey together. Add to the quinoa and toss until well coated. Add the zucchini ribbons and toss gently.
Serves 2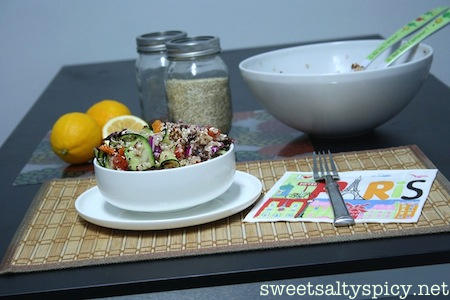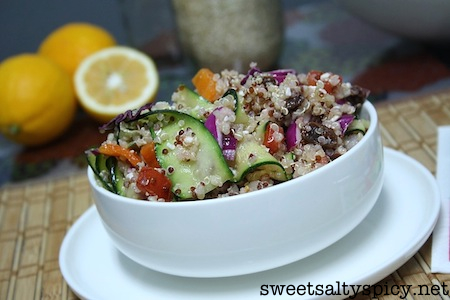 This salad is flavourful, but also light and refreshing. It is really easy to make and you can change it up depending on the vegetables you have on hand.