I love mushroom soup! Usually, Cream of Mushroom Soup is what you'll see. But did you ever make it into Cream of Mushroom Soup? I won't say it is amazingly better. I will say however that the two of them are completely different. Instead of a creamy light-tasting goodness, you'll have an earthy, flavorful, brothy goodness. If you are a mushroom lover, you just need both goodnesses in your life ;).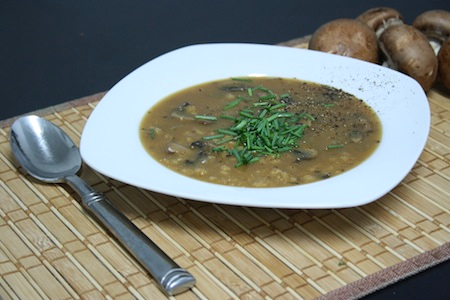 Mushroom and Barley Soup
Adaptation of "Cream of Mushroom & Barley Soup", Eating Well
Ingredients:
1/2 cup hulled barley
4 cups no-salt-added vegetable broth, divided
1 ounce dried porcini mushrooms
2 cups hot water
3 tbsp extra virgin olive oil
1 cup finely chopped shallots
1 pkg (8oz) crimini mushrooms, sliced
2 stalks celery, chopped
1 tsp dried sage
salt and pepper to taste
2 tbsp flour (I used oat flour)
1/2 cup calvados or pommeau
optional: 1/2 cup plain greek yogurt
minced fresh chives for garnish
Directions:
Bring barley and 1 1/2 cups broth to a boil in a small saucepan over high heat. Stir, cover, reduce heat to low and simmer for 1 hour.
Meanwhile, Rinse the the porcini mushrooms and add the hot water. Soak for 20-30 minutes. Transfer the mushrooms to a cutting board and finely chop. Reserve the soaking liquid.
Heat olive oil in a large pot over medium heat. Add shallots and cook, stirring often, until softened. Add porcini and crimini mushrooms and celery and cook until the mushrooms are softened. Add sage, salt and pepper and cook for one more minute. Sprinkle flour over the vegetables and cook, stirring, until the flour is incorporated. Add calvados or pommeau and cook, stirring, until most of the liquid has evaporated.
Add the mushroom soaking liquid, the remaining 2 1/2 cups of vegetable broth and 1/2 cup of water. Increase heat to high and bring to a boil. Reduce heat to low, cover, and simmer for 20 minutes.
If you want a thicker soup, add a little cornstarch mixed with water and let boil for one minute.
Add barley and continue cooking for a couple minutes. If using, stir in greek yogurt until incorporated. Serve garnished with chives.
Serves 4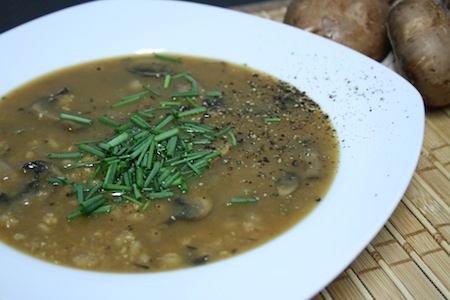 This soup is light and delicious. As I said before, it is
earthy
thanks to the combined flavor of the mushrooms and hulled barley. The mix of the sage, calvados, vegetable broth and mushroom soaking liquid makes a flavorful but not overpowering broth. Delicious!