I felt like eating risotto one night and had some zucchini to use. So why not make a zucchini risotto? Looking at what I had (I was clearly not going to add only zucchini to that risotto), I found some coconut milk, which made me think about curry, which led to a curry risotto. Unusual but delicious!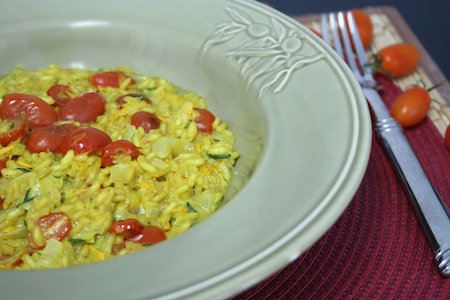 Curried Zucchini and Roasted Grape Tomato Risotto

Ingredients:
1 pint grape tomatoes, cut in half

3 cups vegetable broth
2 tbsp olive oil
1 white onion, chopped
1 cup arborio rice
1 tbsp hot curry powder
1/2 tbsp garam masala
1/4 cup dry white wine
1 cup coconut milk
1 yellow and 1 green zucchini, grated on the large grating surface
Directions: Preheat oven to 400°F. Place grape tomatoes on a baking sheet, cut side up, and bake for 10 minutes.
Pour the broth in a medium saucepan and heat on medium heat until warm. Keep on low heat.
Heat olive oil in a large saucepan or very large skillet over medium heat. Add onion and cook until translucent. Add arborio rice, curry powder and garam masala and cook, stirring, for 1 minute. Add wine and cook, stirring, until most of the liquid is evaporated. Add one ladle of broth and cook, stirring, until most of the liquid is absorbed. Continue to add a ladle of broth at a time, stirring, until liquid is absorbed after each addition. Then, add the coconut milk and cook, stirring, until all the liquid is absorbed.
Add grated zucchini and cook for 1-2 minutes. Stir in tomatoes, cook until heated through and serve.
Serves 6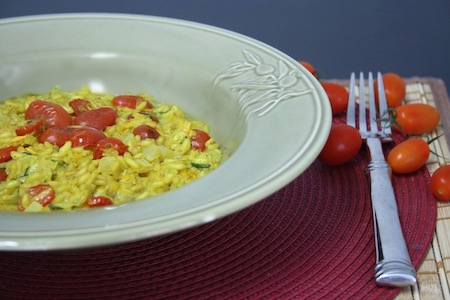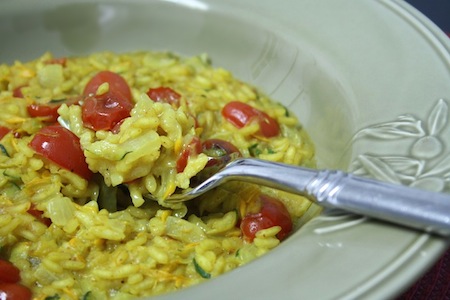 This risotto is spicy and flavorful, and the tomatoes add some juicy sweetness. A great way to use up those summer veggies!