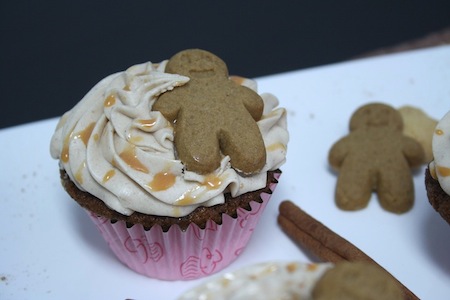 Holidays are the perfect source of baking inspiration. And one thing I love about Christmas season is gingerbread. Sweet, spicy and delicious! I wanted to make Christmas cupcakes this week, and gingerbread it was!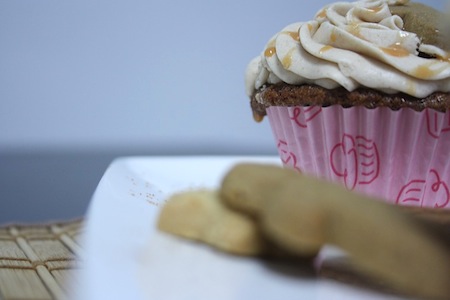 Gingerbread Cupcakes with Cinnamon Cream Cheese Frosting & Butterscotch Glaze
Adaptation of Gingerbread Cupcakes, Vegan Cupcakes Take Over the World
Ingredients:
1 1/4 cups spelt flour
1 tsp baking powder
1/2 tsp baking soda
3 tsp ground ginger
1 tsp ground cinnamon
1/4 tsp ground cloves
1/4 tsp fine sea salt
1/2 cup canola oil
1/3 cup fancy molasses
1/2 cup pure maple syrup
1/4 cup soy milk
2 tbsp plain yogurt (regular or vegan)
1/4 cup crystallized ginger, finely chopped
Frosting:
1/2 cup butter or butter flavored non-hydrogenated margarine (like earth balance)
1/2 cup cream cheese (regular or vegan)
1 tbsp soy milk
1 tsp vanilla extract
1/2 tsp maple extract
4 cups icing sugar
2 tsp ground cinnamon
Glaze (optional):
1/8 cup soy milk or other non-dairy milk
1/4 cup butterscotch chips
Directions: Preheat oven to 350°F. Line a muffin pan with cupcake liners. In a bowl, mix flour, baking powder, baking soda, spices and salt. In a second bowl, whisk oil, molasses, maple syrup, soy milk and yogurt. Add the dry ingredients and mix until smooth. Stir in crystallized ginger.
Fill cupcake liners 2/3 full. Bake for 25-30 minutes, or until a toothpick comes out clean. Transfer to a cooling rack and let cool completely before frosting.
To make the frosting, beat the butter and cream cheese together with a hand mixer. Beat in the milk, vanilla extract and maple extract. Add the icing sugar 1/2 cup at a time, then mix in cinnamon. Continue mixing for 5 minutes.
To make the glaze, heat milk on a small saucepan over medium heat until it starts to bubble. Remove from heat, add butterscotch chips and stir until melted and smooth. Let cool a little until it has the right consistency to drizzle on the cupcakes.
Makes 12 cupcakes.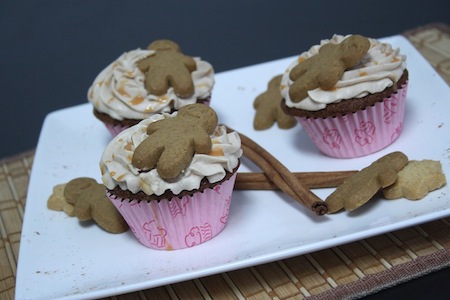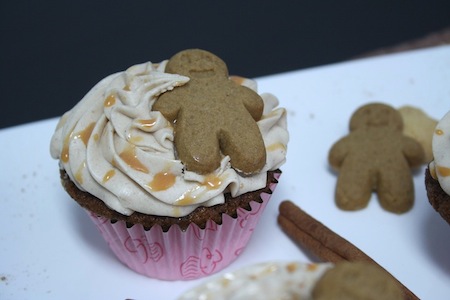 These cupcakes were delicious. It will make your house smell like gingerbread christmas yumminess ;). The cinnamon frosting is perfect with the spicy cake. And how cute are they?!