It was my friend's birthday (2 months ago… took me a long time to post this!) and I wanted to make her granola. You see, I gave her a little container of my granola every time I made a new recipe and she loved it. So I wanted to make a new recipe for her.
And she happens to also love piña coladas. Every time we go out to eat and she wants a drink, she orders a virgin piña colada. So I just had to make a piña colada granola for her :). I made enough to have some left for myself so the recipe makes a lot of granola. You can halve the recipe if you want but believe me, you never have enough of this one.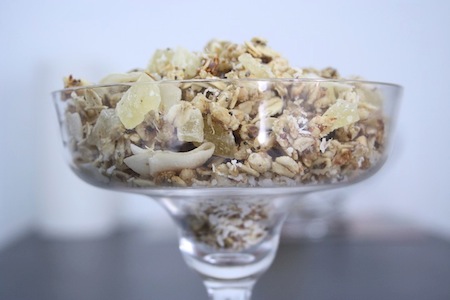 Piña Colada Granola
Dry ingredients:
6 cups rolled oats
2 cups brown rice cereal
1/2 cup raw buckwheat groats
1/2 cup wheat germ
1/4 cup wheat bran
4 tbsp flax seeds, grounded
4 tbsp chia seed
1/2 cup shredded unsweetened coconut
Wet ingredients:
1/2 cup coconut milk (full fat)
6 tbsp virgin coconut oil
1 cup pineapple jam
1/4 cup agave nectar
1/2 tsp pure vanilla extract
1/4 tsp coconut extract
Add-ins:
2 heaping cups chopped dried pineapple
3/4 cup unsweetened shredded coconut
3/4 cup toasted coconut flakes
Directions: Preheat oven to 325°F and line two baking sheets with parchment paper.
In a large bowl, mix dry ingredients. Combine coconut milk, coconut oil, jam and agave in a small saucepan. Cook over medium-low heat, stirring continuously until melted and well combined. Remove from heat and stir in vanilla and coconut extracts. Pour on dry ingredients and stir until well coated.
Spread evenly on baking sheets and bake for 20 minutes, stirring after 10.
Let cool on baking sheets, then transfer to a large bowl and stir in add-ins. Store in an air-tight container.
Makes 14 cups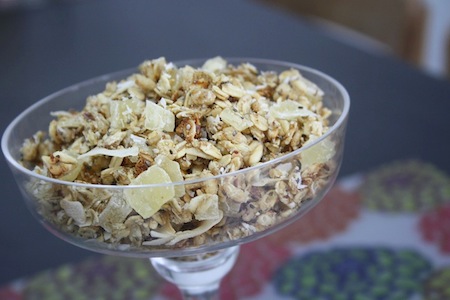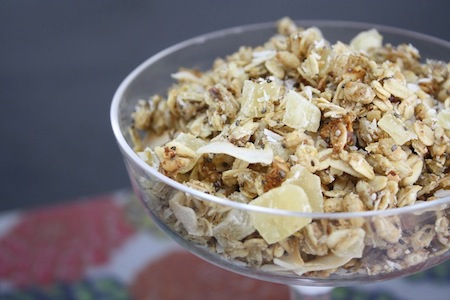 This might be my favorite granola ever. It was a perfect summer breakfast with greek yogurt and berries. The crunchy great-tasting coconut oats with the chewy, sweet pineapple are perfect together!