I looove oatmeal. I used to eat pre-packaged oatmeal (the one with three tons of sugar that doesn't fill you up at all) but it's been a long time since I've eaten those. When I did, my absolute favorite was the peaches n' cream oatmeal. Since it's peach season, I decided to go ahead and make myself a healthy, filling homemade version!

Peaches n' Cream Oatmeal
Ingredients:
1/2 cup milk (I use almond or soy milk)
1/2 cup water
1/2 cup rolled oats (not quick oats)
1 medium peach, chopped
1 tbsp flax seeds, grounded
1 tsp agave nectar
1/4 cup plain Greek yogurt
1/4 tsp pure vanilla extract
Maple syrup (optional)
Directions: Add milk, water and oats to a small saucepan. Bring to a boil, add chopped peach, grounded flax seeds and agave nectar and reduce heat. Cook, stirring often, until desired thickness. Stir in yogurt and vanilla extract and serve immediately. Drizzle with maple syrup if desired.
Serves 1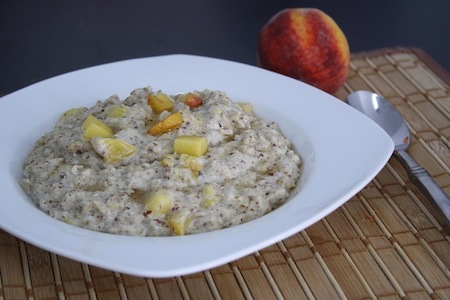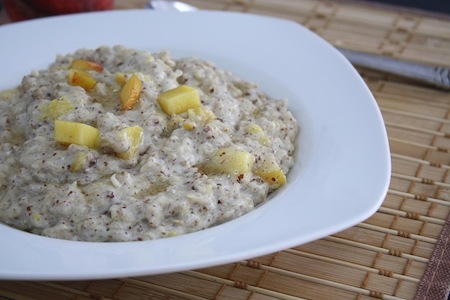 This oatmeal is delicious! Not even close to the store-bought version… it actually tastes like real peaches :P. Use regular rolled oats and not quick oats so the peaches have time to cook. If you like your oatmeal sweeter, you could use peach Greek yogurt!
If you want a filling summer breakfast, this is it.  With 12g of fiber and 17g of protein, this breakfast will keep you going all morning!