I don't make chinese/thai food very often. Why? Simple: takeout. But that's not a very good reason… Is there anything easier and quicker than a stir-fry for dinner (besides a sandwich)?. Might take more time to walk to Thai Express…
I've also never made anything else than a regular stir-fry. My favorites are Singapore noodles and Pad Thai, so I definitely want to master these two, but tonight's post is about an other dish… Lo Mein.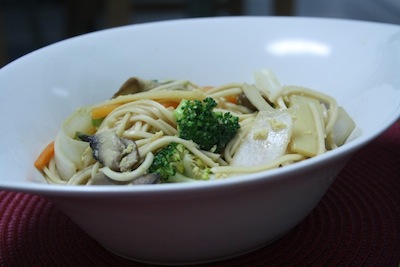 Now don't ask me if this is any similar to takeout Lo Mein, I never had any! It definitely is less salty than any takeout dinner, but the important is: it was tasty ;).

Veggie Lo Mein
Adaptation of Veggie Lo Mein, Three Many Cooks
Ingredients:
1 cup broccoli florets
250 g Yet-Ca-Mein noodles (or other oriental spaghetti-style noodles)
1 tbsp toasted sesame oil
1 small/medium white onion, halved from pole to pole, each half cut into sixths
1 cup sliced cremini mushrooms
1 carrot, cut into matchsticks
2 celery stalks, chopped
1 can (199 ml) sliced bamboo shoots
3 eggs, beaten
Sauce:
1/4 cup low fat coconut milk
1/4 cup low sodium soy sauce
2 tsp rice vinegar
2 tsp toasted sesame oil
2 tsp hot sauce
1 tsp honey
3 cloves garlic, pressed
1/2 tbsp grated ginger
Directions: Bring a big pot of water to a boil. Boil or steam broccoli for 2-3 minutes. Add noodles to the same water and cook according to package directions.
Whisk all the sauce ingredients together.
Heat oil in a wok over medium-high heat. Add onion and stir-fry 1-2 minutes. Add mushrooms, carrots, celery and bamboo shoots and stir-fry a couple more minutes. Add steamed broccoli and stir-fry 30 seconds.
Push the veggies to the sides and add eggs in the middle. Stir until eggs are cooked. Add noodles and stir-fry 30 seconds, then stir in sauce.
Serves 4-5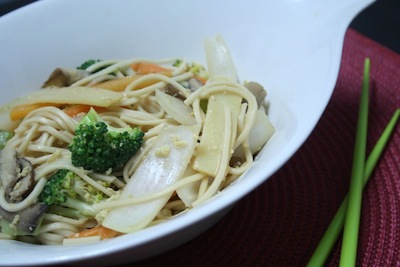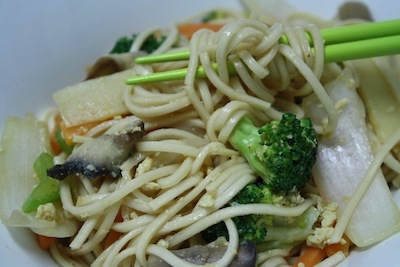 This was an easy, tasty dinner. The sauce is AMAZING. It is definitely what gives a great flavor to the (tasteless) noodles. You could make this dish vegan by using tofu (add at the beginning with the onions) instead of eggs and sugar instead of honey ;).