1. Hosting fondue night with friends.
2. Asking what friends want to drink.
3. A friend has the best idea ever; Sangriaaaa!
4. It's fondue. It's November. I don't want to make a summery sangria. But how can I make an autumny sangria?
5. Autumn + Fruit = Apple.

Apple Sangria
Ingredients:
 1 bottle (750 ml) dry white wine ( I used Viña Sol)
3/4 cup apple liquor (I used Pommeau de Normandie, a mix of apple juice and Calvados)
1/4 cup white cranberry juice
1/8 cup golden cane sugar
2 apples, diced
1 small orange, sliced and quartered
1/8 cup fresh or frozen cranberries
1/2 cup sparkling water
Directions: Add all ingredients except the sparking water in a pitcher and stir to dissolve the sugar. Cover and let stand in the fridge at least a couple hours, ideally overnight. When ready to serve, add sparking water.
Serves 8-10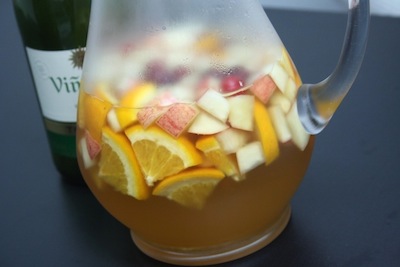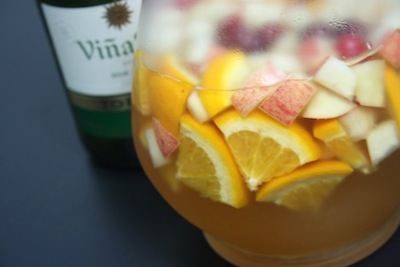 This was my favorite homemade sangria to date. It is just strong enough, just sweet enough, and the taste is amazing. The apple liquor I used has a 17%  alcoholic strength and is a mix of Calvados and apple juice. You would obtain the same result by mixing 1/2 Calvados 1/2 apple juice. You could also use Appelkorn (but it would taste less like "real" apple) … or only Calvados … if you want an extra strong sangria!
6. Wine + Apples = Yummyyy.