I rarely buy nutella. Of course I love it. But it is expensive and not that healthy. I do eat it sometimes, mostly when I'm at my boyfriend's house. But a while ago, a jar of nutella made it's way to my kitchen. Reason: I wanted to make A Spicy Perspective's Zucchini and Nutella Muffins (they were amazing!). And since I had a lot of nutella left, I decided to try and get creative.
First, I wanted to make nutella french toast but I ended up craving bread pudding instead. So I made nutella bread pudding, which was a really good thing to do.

Nutella Bread Pudding
Ingredients:
4 eggs
1 1/2 cups milk
1 tbsp brown sugar
1/2 tsp pure vanilla extract
1/4 tsp ground cinnamon
 400-500 g sliced whole wheat bread (I used a wheat pane)
Nutella (about 1/4 – 1/3 cup)
1 tbsp hazelnuts, chopped
Directions: In a large bowl, whisk eggs and milk. Add the brown sugar, vanilla and cinnamon and whisk until incorporated.
Spread a thin layer of nutella on the bread slices and cut into 1 to 1 1/2 inch pieces. Add the bread and chopped hazelnuts to the wet ingredient and stir until well coated. Coat a 9 x 11 inch baking dish with cooking spray (or lightly grease), pour in the bread pudding and cover. Let sit in the fridge overnight.
In the morning, preheat oven to 350°F. If your baking dish is in glass, make sure to let it sit on the counter a little so that it does not break from the change of temperature.
Bake uncovered for 35-40 minutes. Serve warm.
Serves 6-8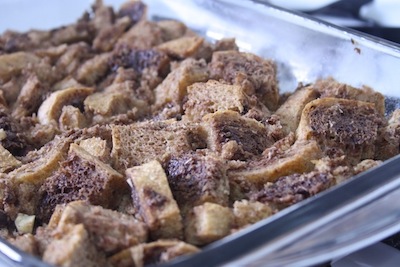 This bread pudding was so good! There was a subtle nutella flavor all over with bites that were extra-nutellawy. It was crunchy on top and moist on the bottom. It is also just as good as a leftover, reheated in the microwave!
I always eat my bread pudding for breakfast, but I do know it is often served as a dessert. But I definitely think this one didn't taste like a dessert at all. Yes it is sweet, but it is breakfast sweet ;).
Oh… and nutellawy should definitely be a real word.