I was going through my bookmarked recipes (that's a LOT of recipes), looking for something easy to make for dinner.
Related to this is the fact that I'm an obsessive organizer (on my computer, not in my apartment, shhh it's a secret).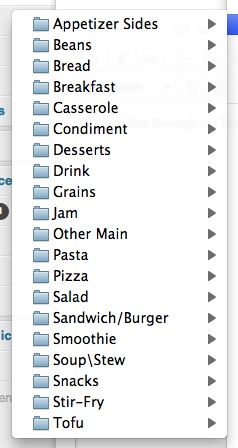 This is my bookmarked recipes. You should see how many folders I have on my e-mail!
Back to supper. Since I was looking for something easy to make for dinner, I ended up in the stir-fry folder. And found something I bookmarked a very long time ago: Spicy Oriental Stir-Fry. I bookmarked this because I just love the idea of using pineapple in a stir-fry.
I also bookmarked this before I started making stir-frys, which is why it's been in my bookmarked recipes for so long. I used to be scared of stir-frys; I was sure they were hard to make. I was definitely wrong on this one! I made my first one during final exams and it might have saved my life.

Sweet & Spicy Oriental Stir-Fry
Adaptation of Spicy Oriental Stir-Fry, Shape Magazine
Ingredients:
1 package (350 g) extra-firm tofu
1 can (14 oz) pineapple chunks
1/2 cup ketchup
1 tsp cane sugar
1 tsp chili powder
1 tsp low sodium soy sauce
1/4 tsp tabasco
Small pinch garlic powder
Small pinch salt
2-3 tbsp coconut oil (or other heat-resistant oil, like peanut or grape seed oil)
1 small/medium white onion, coarsely chopped
1 small bell pepper, coarsely chopped
1 cup snow peas
1 green onion, sliced
Brown rice
Directions: Wrap tofu in a clean towel or several layers of paper towel. Place under a heavy book for 10-15 minutes.
Drain pineapple chunks, reserving 2 tbsp of juice. In a small bowl, whisk reserved juice, ketchup, sugar, chili powder, soy sauce, tabasco, garlic powder and salt. When tofu is ready, cut into 1-inch pieces.
Heat oil in a wok over medium-high heat. Add tofu and cook, stirring, until it starts to get golden. Add onion and cook 1-2 minutes. Add bell pepper and cook 1-2 minutes. Add snow peas and pineapple chunks and cook 1 more minute. Stir in the sauce and cook until hot. Serve over rice, garnished with sliced green onion.
Serves 4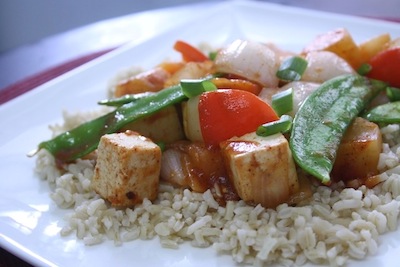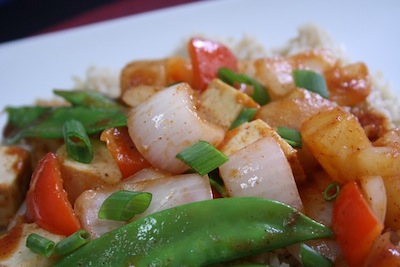 The flavors of this stir-fry were very different from the ones I made before and I loved it! The sauce is thick, flavorful and spicy but it doesn't "burn". There is enough to mix with the rice at the end, which I love. The pineapple is amazing in there! Definitely my favorite part of the dish. It made it a little more summery :).
See you on Saturday for a special post! I know, you're intrigued. And I'm excited.