If you feel like having an appetizer with your dinner but don't want to have the extra time to prep one, this recipe is for you. Because it takes less than 10 minutes to make, from washing your hands to sitting down to eat.
This is an appetizer my grandmother makes sometimes and I love it. It's no surprise: I love Dijon mustard and this is what it tastes like :). I did change it a little by using less cream and adding grainy mustard but it does still taste exactly the same. Delicious!

Creamy Dijon Zucchini
Ingredients:
 2 small to medium zucchini, sliced
1/3 cup 15% cooking cream
1/4 cup milk
1 tbsp dijon mustard
1/2 tbsp old-style (grainy) mustard
1 tsp butter
1 tsp olive oil
Directions: In a small bowl or measuring cup, whisk cream, milk and mustards together. Heat butter and oil in a skillet over medium heat. Add zucchini slices and cook until lightly browned on both sides. Reduce heat to medium-low, add sauce and cook, stirring, for a couple minutes, until sauce is thick.
Serves 4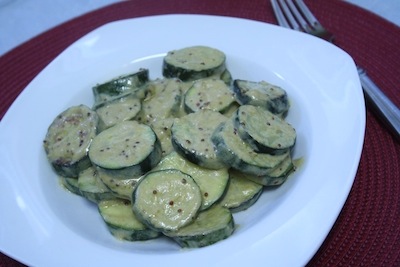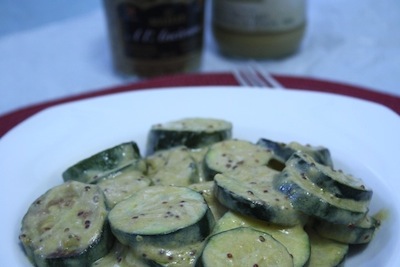 This dish has a strong dijon mustard taste that goes perfectly with the lighter taste of the zucchini. The sauce gets really thick and there will be a little extra, so don't forget the bread to eat all the leftover yumminess!